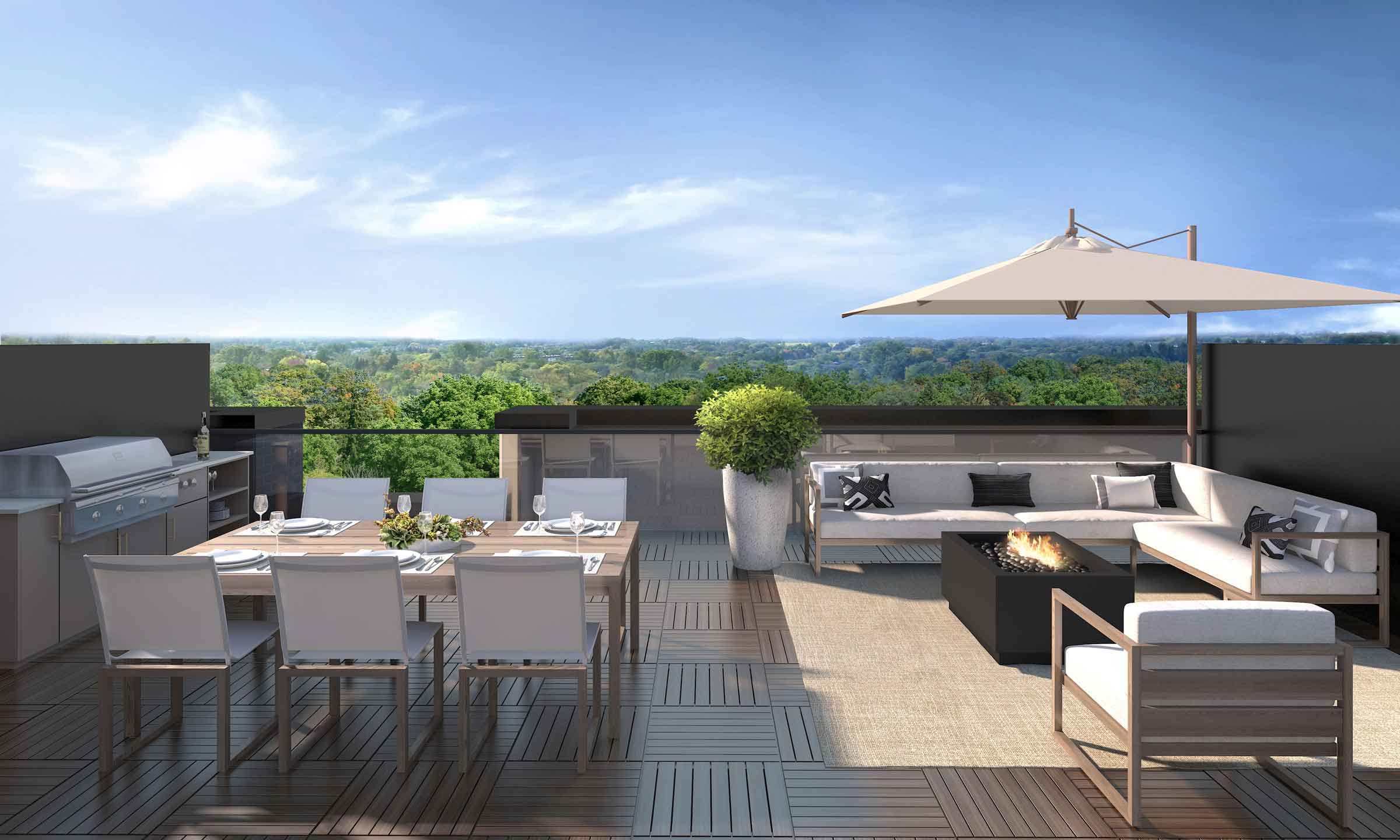 @ Yonge and Finch
November 2, 2020:
딱 26 개의 아름다운 타운 홈, 우리가 즐겨 찾는 한인타운에서 가까운 고급 동네인 영 앤 핀치 지역의 녹음이 우거진 동네 한가운데에, 고급스러운 일레븐 알타몬트 타운홈이 들어섭니다.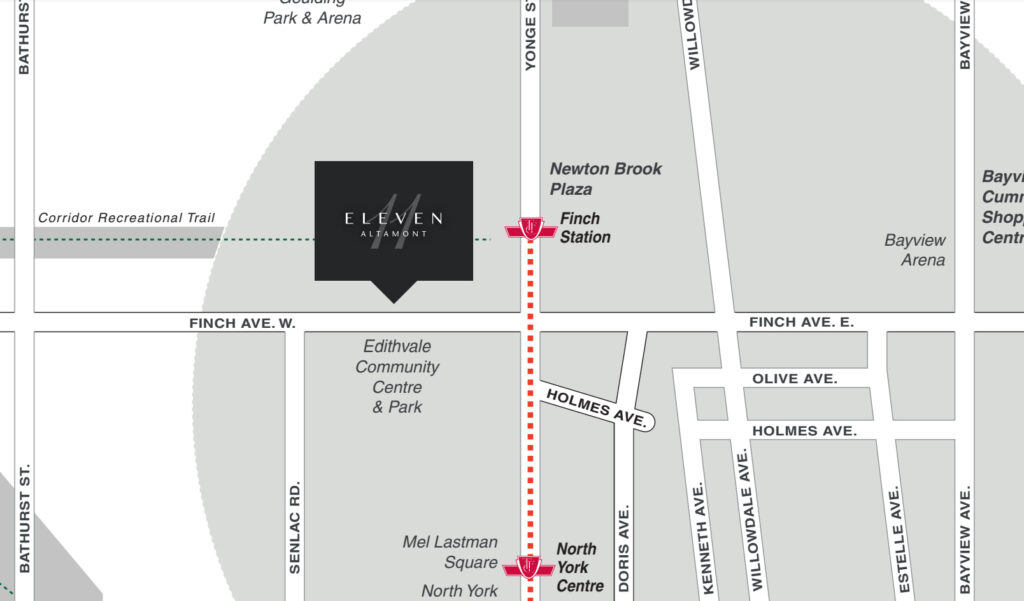 유명 디자이너의 맞춤 디자인처럼 완벽하게 조화를 이룬 요리사 주방, 멋드러진 벽난로, 프라이빗 옥상 테라스, 홈 오피스, 넓직한 패밀리 룸, 그리고 고급 스러운 침실. 간단히 말해, Altamont는 귀하의 욕구에 맞게 세심하게 준비합니다.
이 도시의 오아시스는, 넓은 안뜰, 아웃도어 요가장, 그리고 어린이 놀이 공간까지 두루 갖추고 여러분들의 입주를 환영합니다.
Yonge Street에서 매우 가까우며, 단 몇 걸음 거리에 쇼핑, 식당, 지하철과 GO Bus 터미널이 모두 있습니다. 이것은 고급스럽고 안락하게 재창조된 진정한 럭셔리 생활입니다.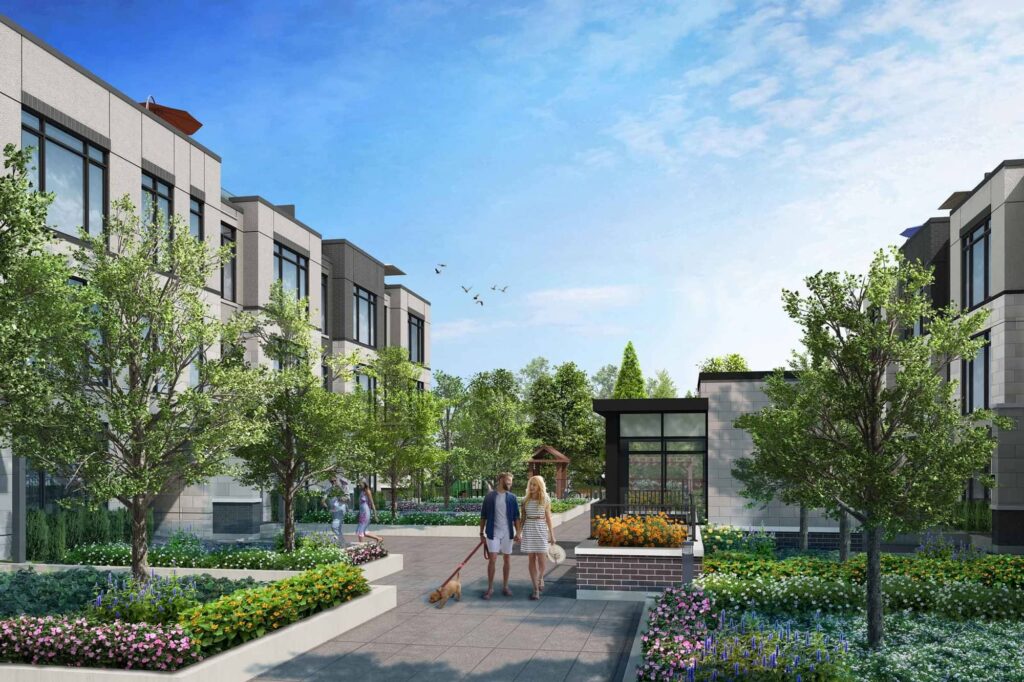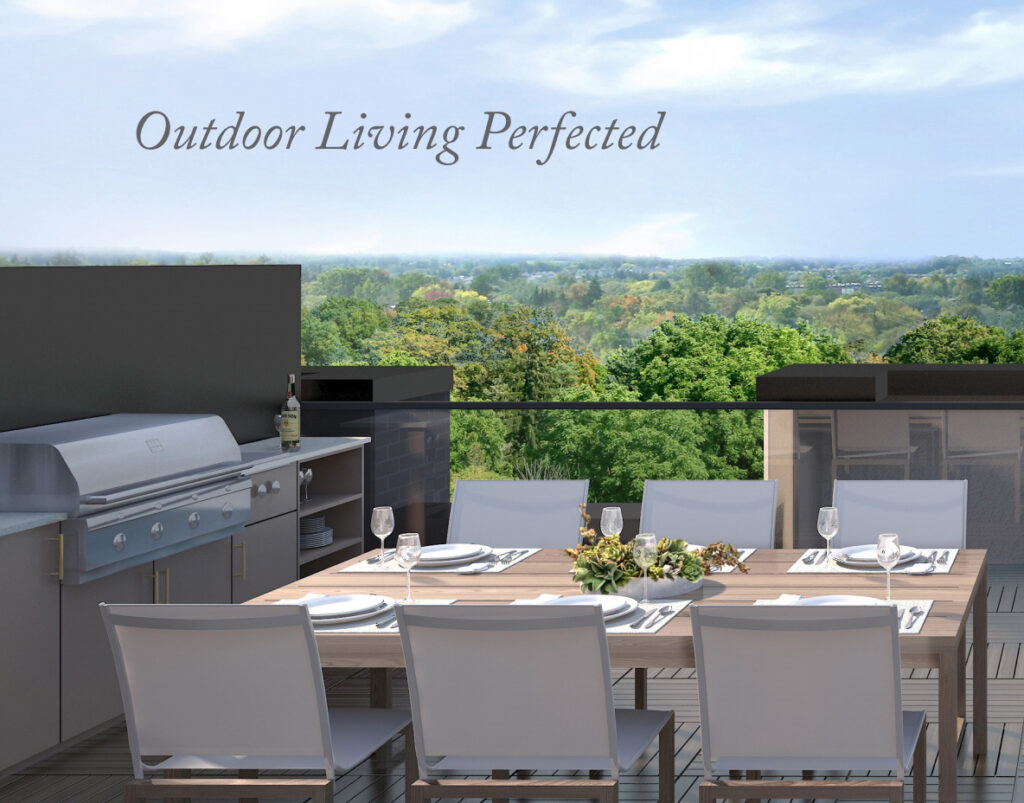 Eleven Altamont의 모든 집에는 풀사이즈의 프라이빗 아웃도어 테라스가 있습니다. 하루 일과를 마치고 휴식을 취할 수 있는 특별한 나와 나의 가족만의 공간입니다. 당신이 원하는 대로 꾸밀 수 있습니다. 이른 아침이라면, 태양이 떠오르는 것을, 늦은 오후에는 석양에 매료되기도 하겠지요. 친구를 초대하거나, 요가 매트를 펴거나, 날씨가 맑을 날이면, 편안히 기대어 좋은 책을 읽는 모습도 상상이 됩니다. 이곳에서는 당신만의 시간, 당신만의 장소, 당신만의 도시의 작은 낙원이 됩니다.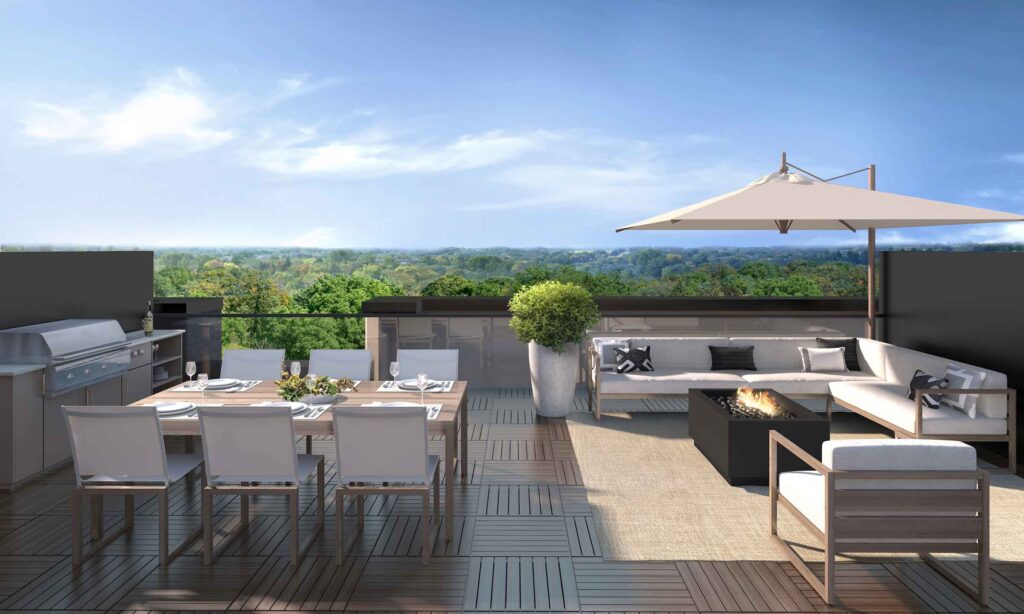 Your Urban Escape
Eleven Altamont는 안팍에서 도시의 세련미를 자아냅니다. 즉, 친근하면서 매우 고급스럽고 아주 잘 꾸며진 커뮤니티이면서도 풍성한 자연과 조화를 이룹니다.
신선한 공간을 제공하며, 아이들의 안전한 놀이공간이 되기도 하고, 이웃을 만나는 장소이기도 한 중앙 센트럴 가든.
어느 곳이든 연결되어 있는 중심 지역입니다.
도시속의 자연입니다.
화려하면서도 녹음이 풍성합니다.
매우 드문 기회입니다.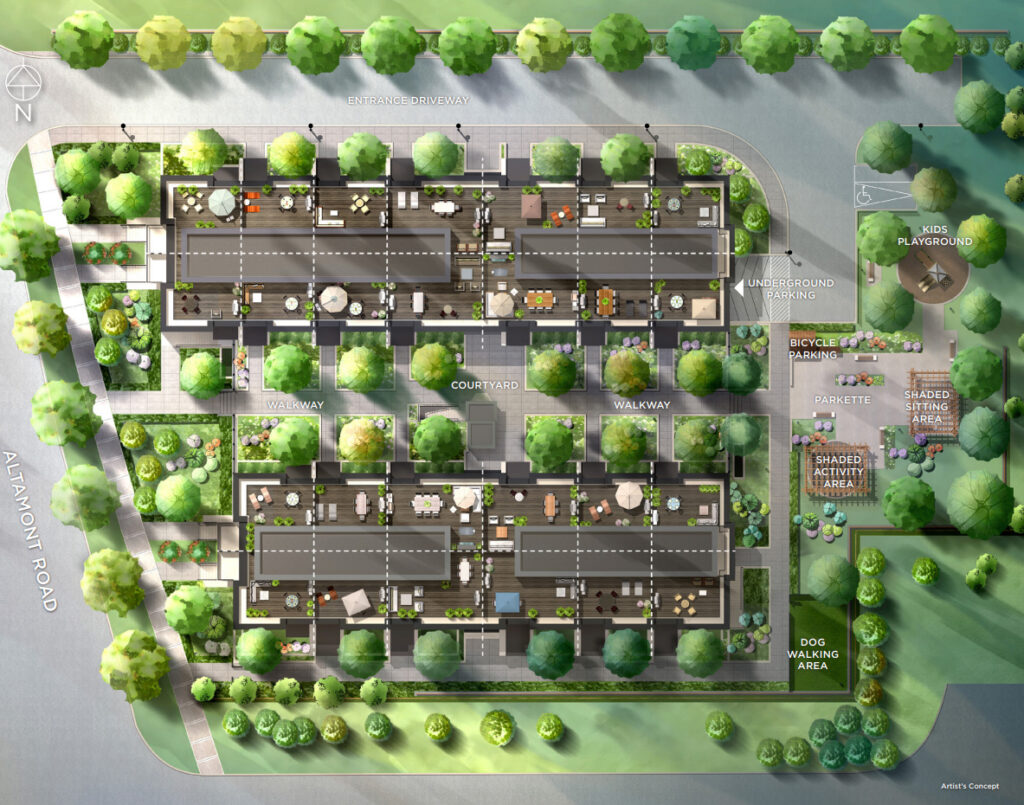 Each townhome is a statement of iconic modern design with clean lines and expansive windows. A sophisticated colour palette of dark brick and beige stone provides rich visual texture. Experience a sense of community while respecting social distancing and personal privacy.
Enjoy the privilege of your own private front door, private terrace, private heating and cooling. When it comes to exclusivity, Eleven Altamont is in a class by itself.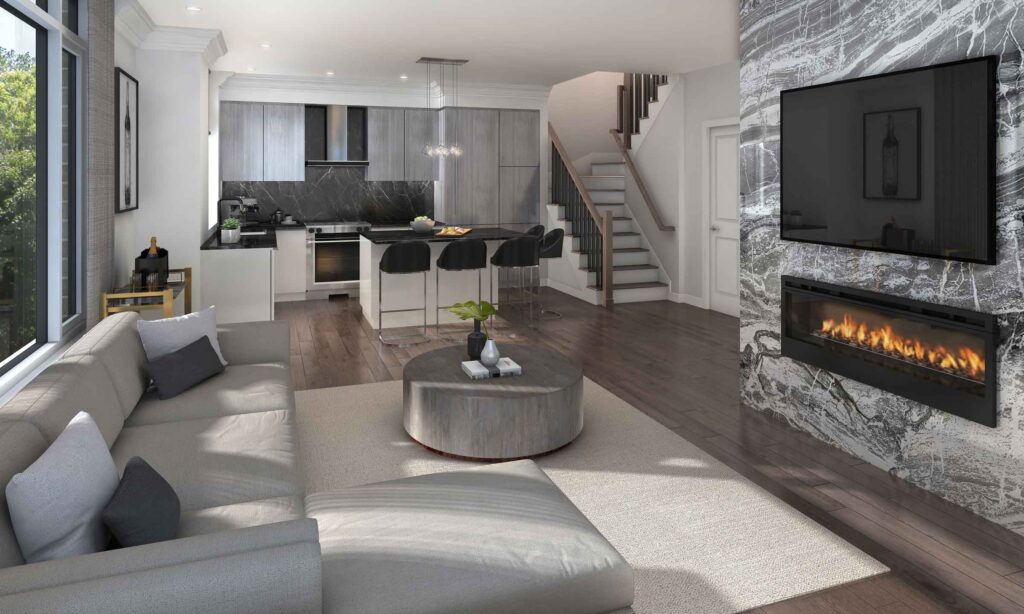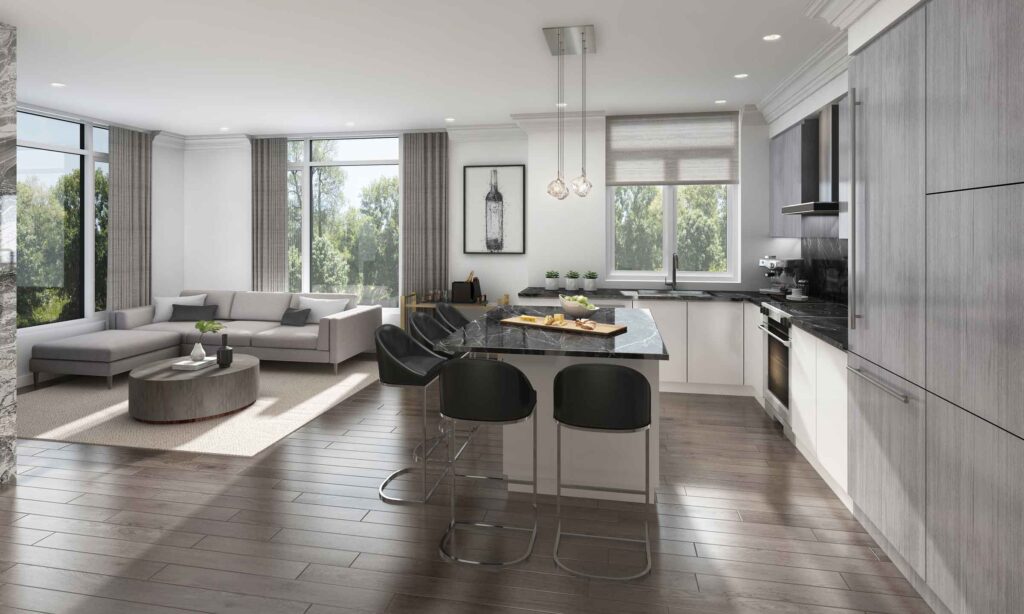 Eleven Altamont is the perfect address to live the coveted Yonge Street lifestyle.
Trendy shops and restaurants serving a variety of international cuisines. Parks, trails and green spaces for a welcome escape from the city. Great schools, libraries, rec centres and resources for the entire family.
The subway at your doorstep. Farmers markets, fairs, festivals and more, just around the corner. It's urban excitement and energy at your doorstep.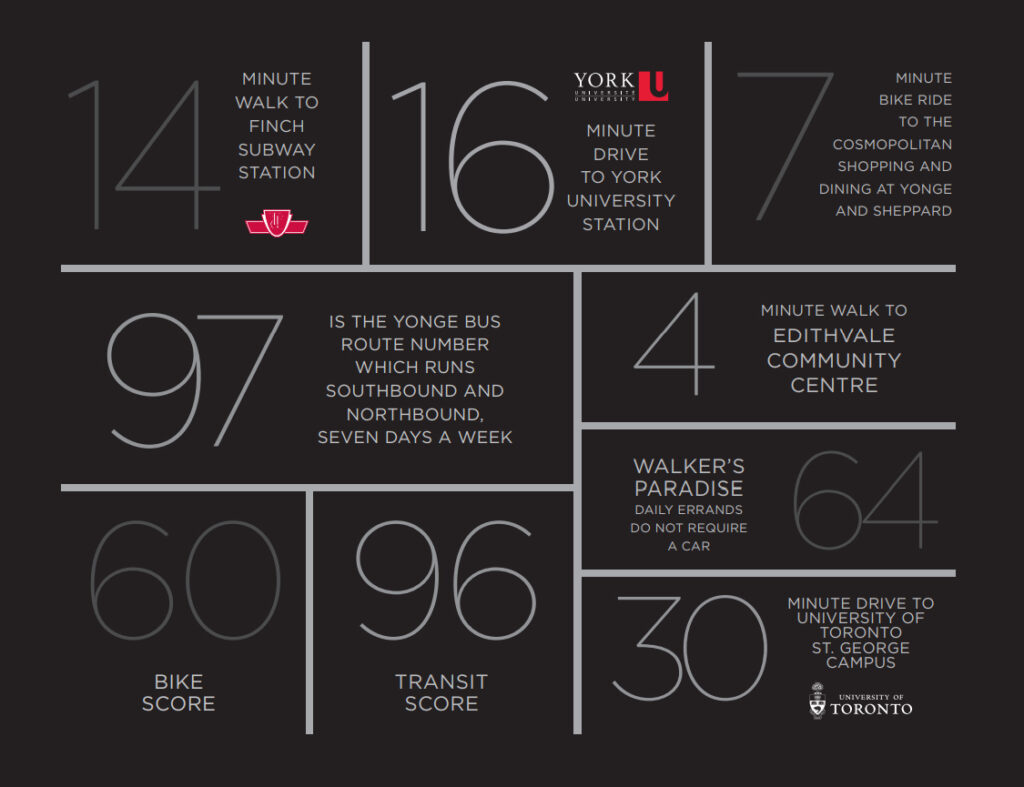 This is where it all comes together.
The convenience and connectivity of the Finch multimodal transport hub.
The romance and drama of a memorable theatre performance. The delectable appeal of a mouth-watering recipe created by a celebrated master chef. The tranquility of a beautiful nature trail in the city. Luxury
urban living has never been so captivating.
Today our world has changed. Work-from-home is the new normal. At Eleven Altamont, we're thinking ahead and offering flex designs to integrate efficient work spaces into the home.
Hold Zoom meetings, consult with clients, fine tune your presentation, all in the safety, comfort and privacy of your home office.
Your home is now more than just a place to live.
Here are some creative ways to personalize the Home Office.
Every single feature is expertly curated by an Interior Designer to provide the pinnacle of refined living. Whether it's the chef inspired kitchen with an extra large island, state-of-theart Miele appliances, or a freestanding bathtub in the Master Ensuite, every luxury brand and feature chosen reflects the inimitable quality.
With a selection second to none, you have the privilege of creating your personalized luxury experience that's tailored to your tastes. Come "Home at Last" to your Custom Heathwood Home.
SUPERIOR INTERIOR FEATURES
• A stylish electric fireplace as the centre feature of the Living Room*
• Walk on quality 5" hardwood flooring throughout each level in your choice of colour**
• Elegant oak stairs will take you from the main level to the 3rd level, featuring upgraded metal pickets and oak handrail **
• 9 ft. ceilings on all levels (except for mechanical boxing and washrooms)
• Modern 7" baseboards and 3" casings throughout
• Classic smooth ceilings on each level*
• Stylish 2 panel 8 ft. "safe and sound" swing doors*
• Trendy black finish lever passage and privacy sets
• The Laundry room will showcase a stackable front-loading washer and dryer
KITCHEN FEATURES
• Expansive luxury granite or quartz kitchen countertops with breakfast bar and a designer selected square edge **
• Premium MIELE Kitchen Appliances **
• Chic BRIZO single-lever kitchen faucet **
• Modern backsplash in a selection of tiled or slab options **
• Upgraded stainless steel canopy hood fan **
LUXURY BATHROOM FEATURES
• Soak up the bubbles in the freestanding bathtub in the Master Ensuite
• Frameless glass shower including a glass door in all bathrooms*
• Spa inspired wall mounted Rainhead fixture with a handheld shower attachment in the Master Ensuite.**
• Beautiful vanity cabinetry with exquisite granite or quarts countertops, a 4" counter backsplash, as well as under-mount sinks in all bathrooms. **
• Double under-mount sinks in each spacious Master Ensuite *
• Your feet will be toasty with heated floors in each bathroom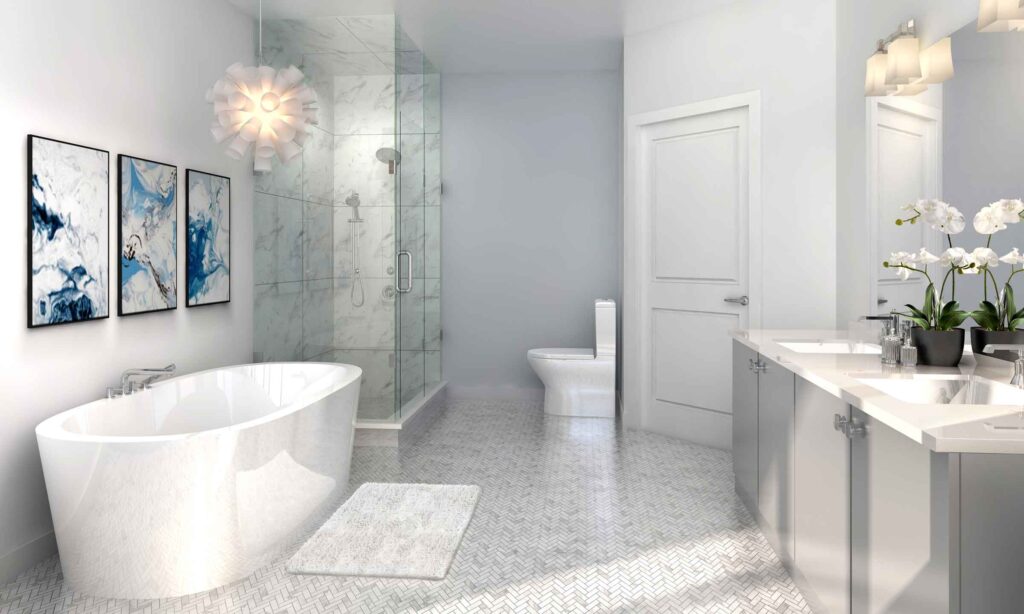 HOME COMFORT FEATURES
• You select the location of the 20 square LED pot lights on main or second level
• Convenient USB outlets in kitchen, Living room, and all bedrooms
• 200-amp electrical service
• Cleaning is a breeze with the fully installed central vacuum system
• Heathwood Smart Home Package including Home Hub, Video Doorbell, Smart Thermostat, Water Leak Sensor and Smart Door Lock
CONTEMPORARY URBAN ARCHITECTURAL FEATURES
• A grand entrance with an oversized 8 ft. high front door
• Your own personal Private Terrace space CONTEMPORARY URBAN ARCHITECTURAL FEATURES
• Special Concierge Area
• Community Board so the whole community can stay in touch.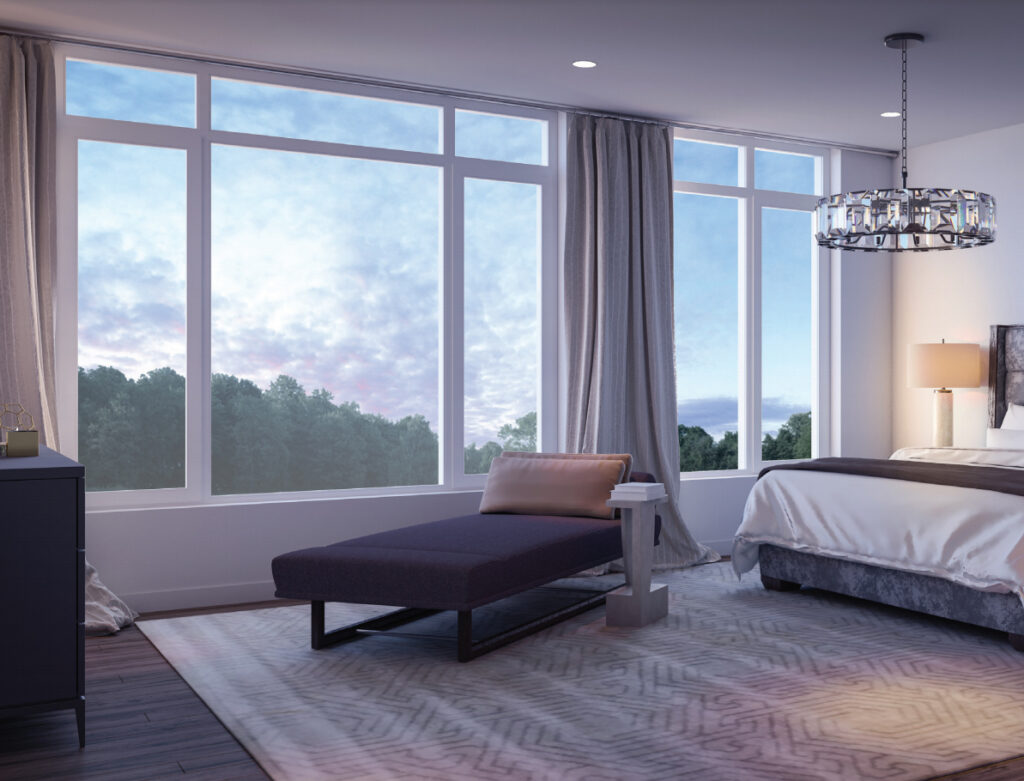 At Eleven Altamont, we take customization to a new level of individual expression. We make space work for you. Tell us where you want your master bedroom, and we will put it there. Also, would you prefer a home office? An extra Bedroom or a spacious Family Room? Just let us know. This
is astute functionality without compromising bespoke design and thoughtful features. With home sizes ranging from 2,024 to 2,514 sq. ft.* there's one that's just right for your family at Eleven Altamont.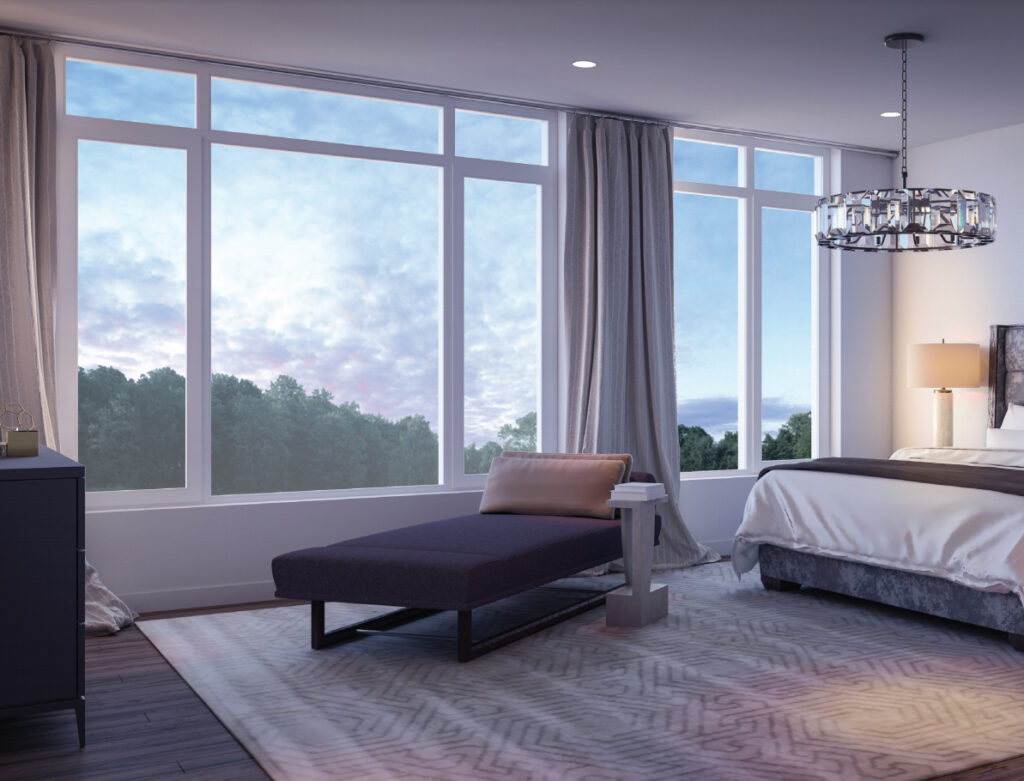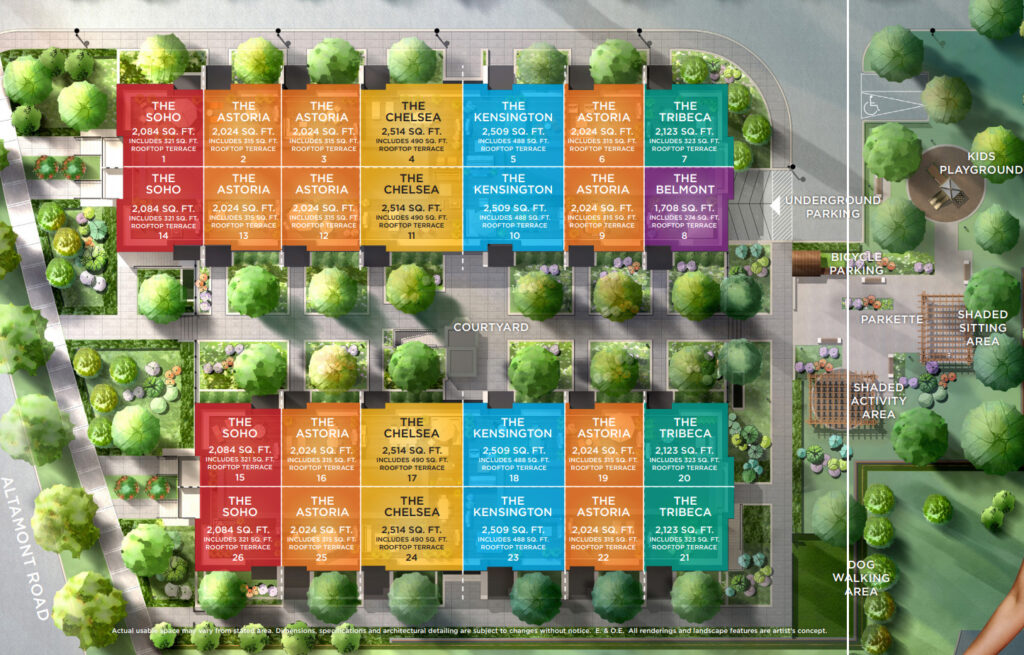 플로어플랜: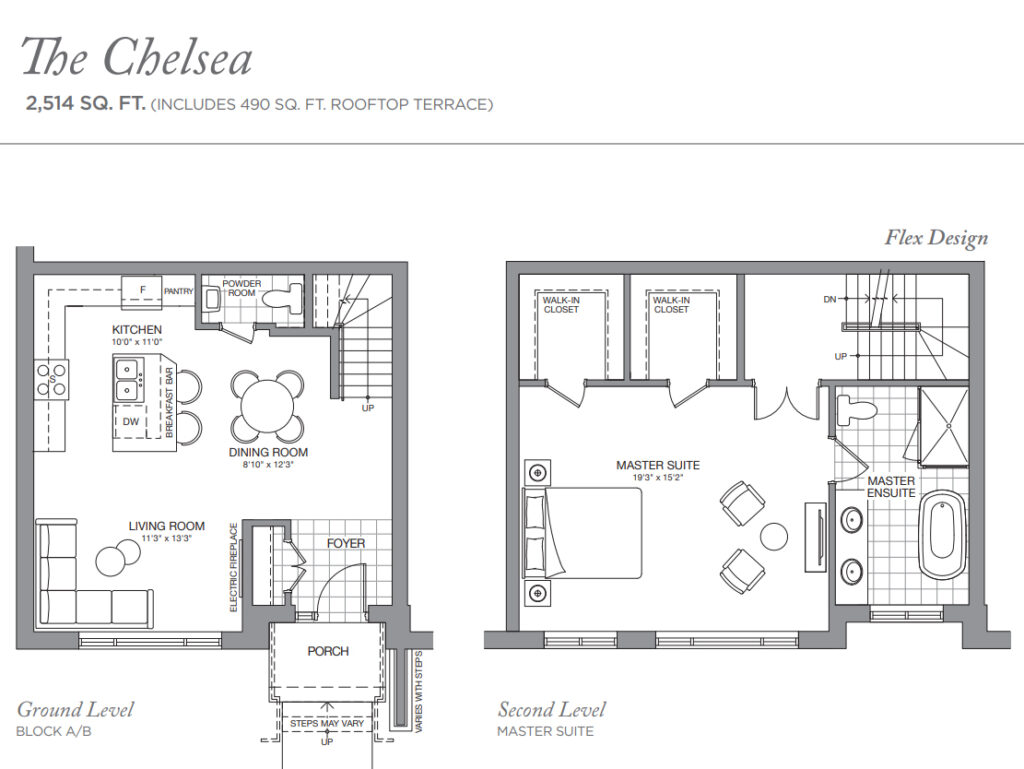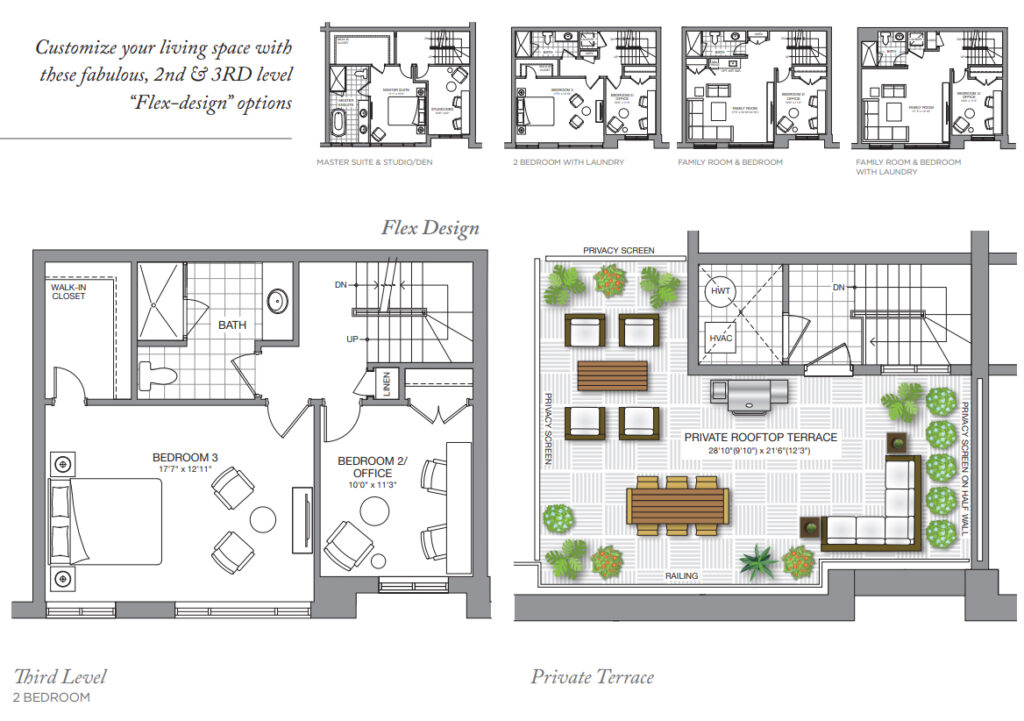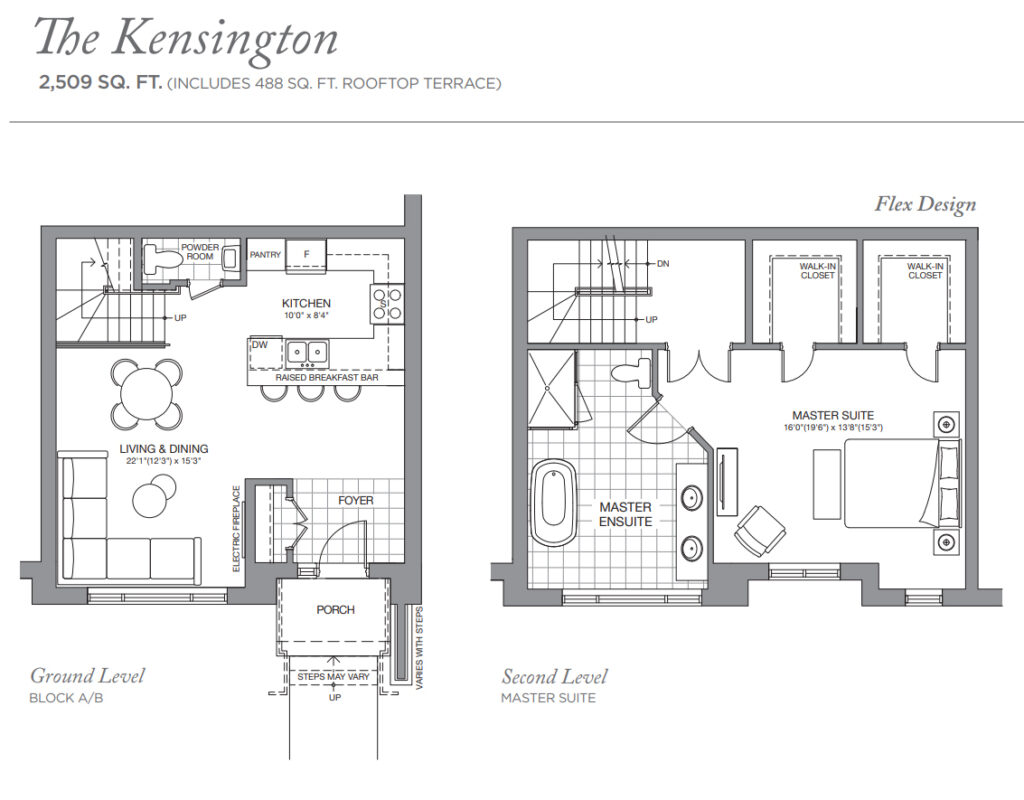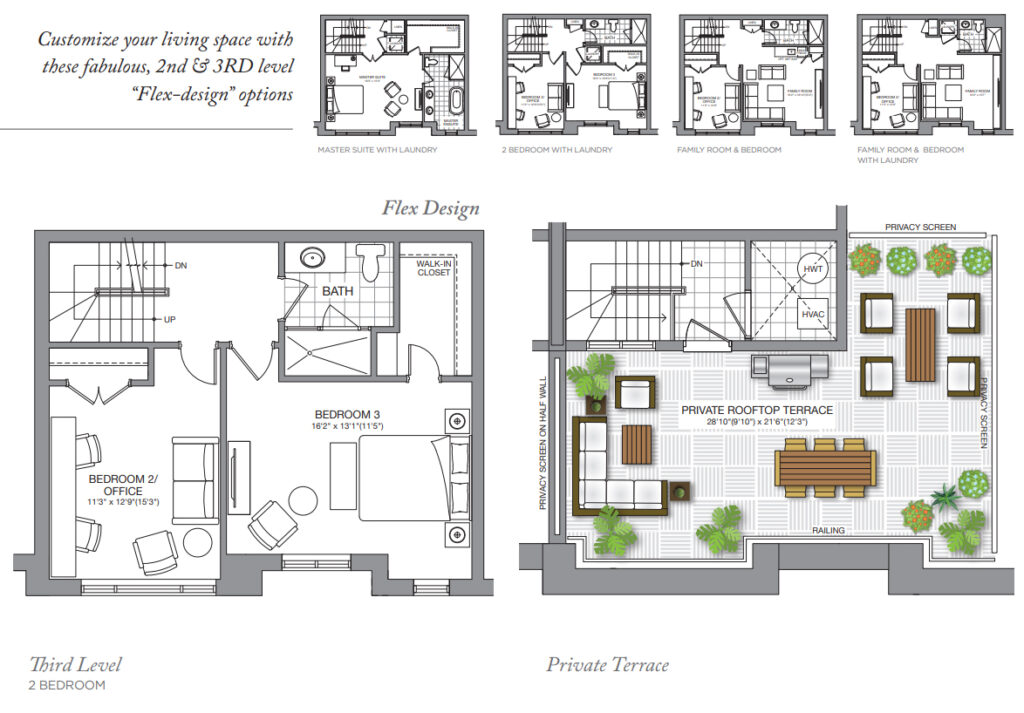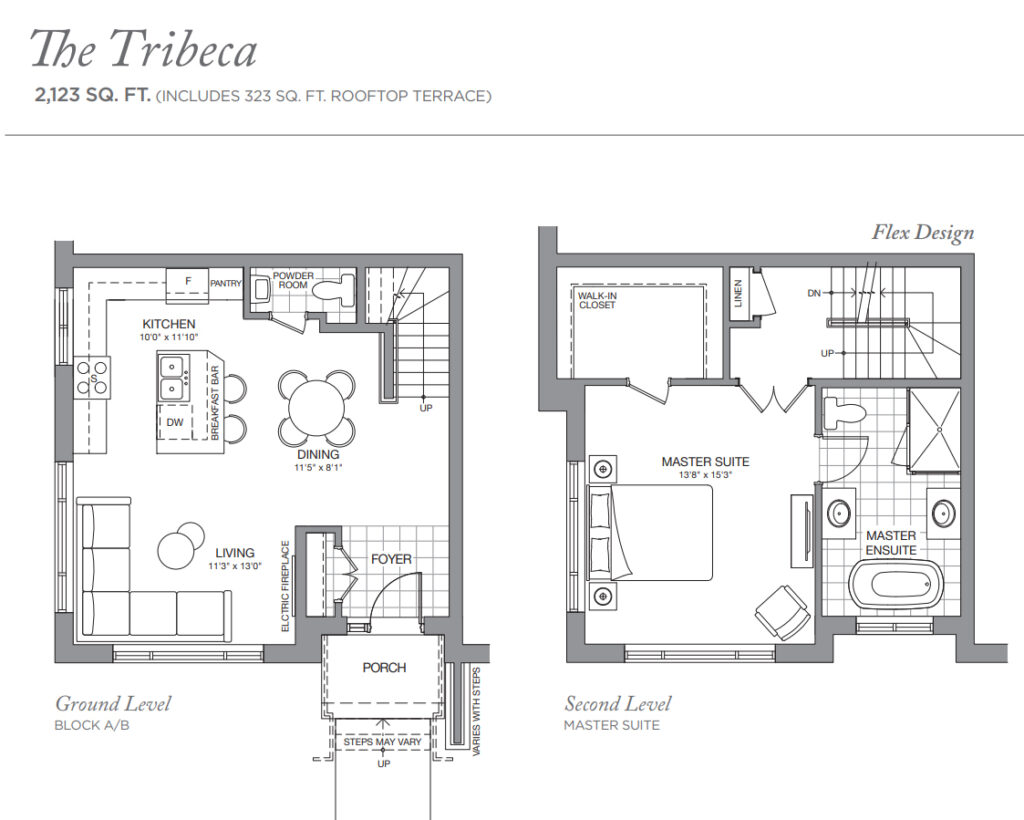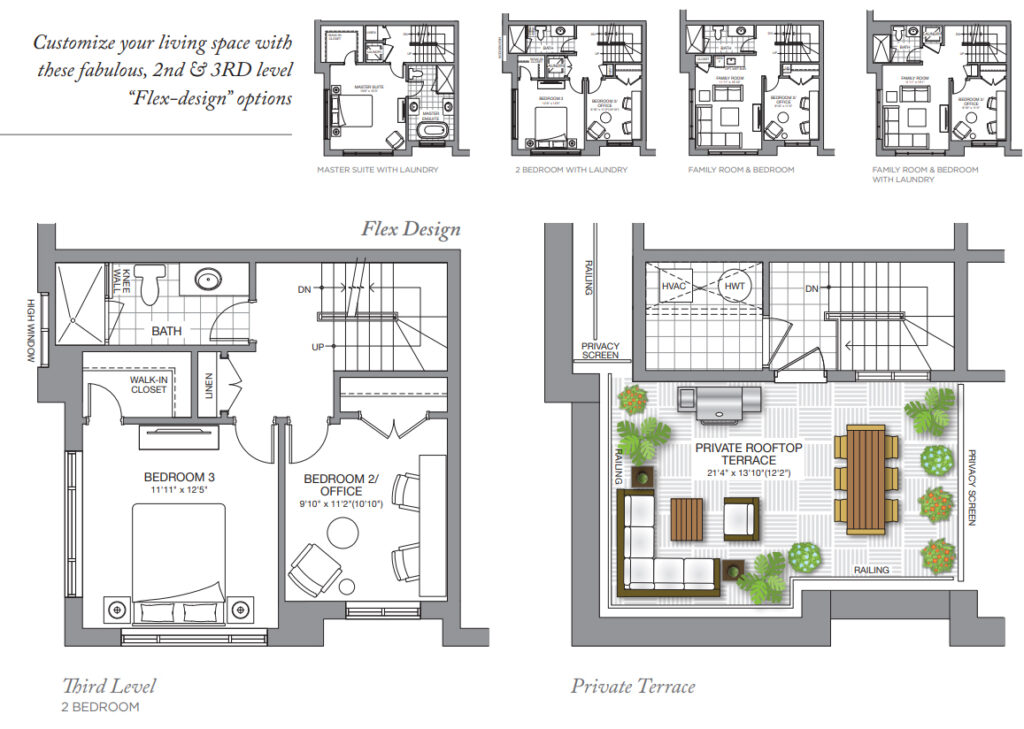 좀 더 많은 플로어플랜과 가격, 인센티브, 그리고 특별 리베이트등, 좀 더 자세한 설명은 전화 주시면 자세히 설명드리겠습니다. 감사합니다.