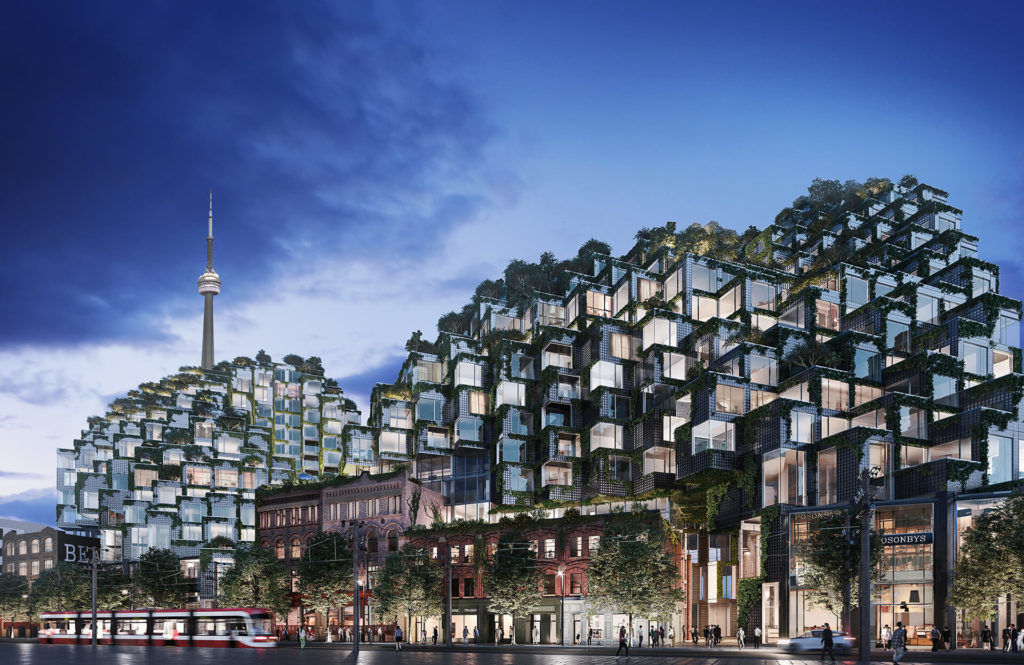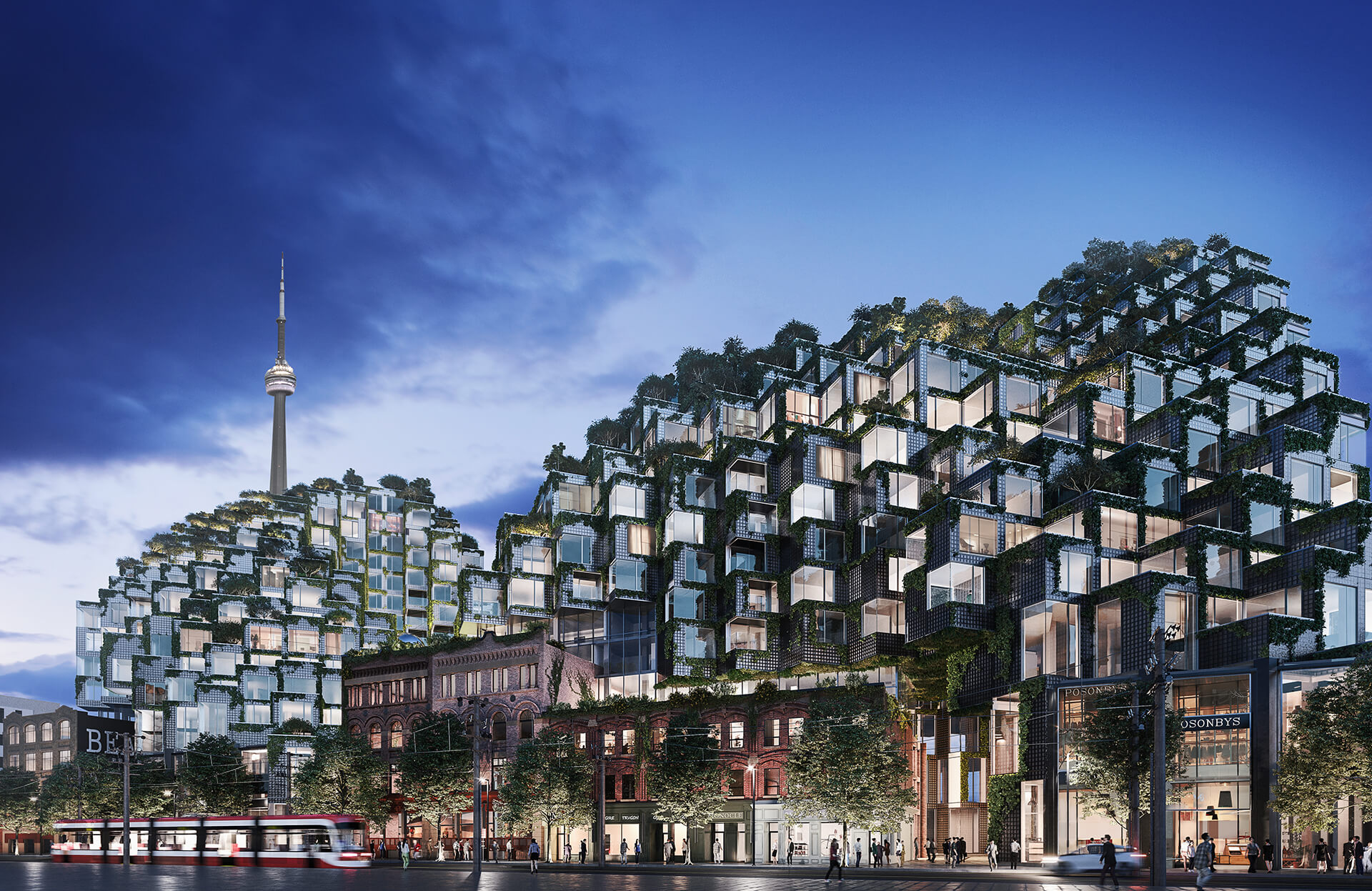 Signing DATE: Saturday, November 10th to Sunday, November 11th
TIME: 10 am to 6 pm (both days)
LOCATION: Sales Tent located next to the Serpentine Pavilion – 533 King St. W. Toronto, ON, M5V 1K4
• All sales must be in accordance with the deposit structure on the worksheet. At the time of signing, an initial deposit of
$10,000 with offer by Bank Draft or Certified Cheque, ALL FOUR (4) post-dated cheques and the original Photo ID
must be presented. All cheques are made payable to "HARRIS SHEAFFER LLP IN TRUST" (stamps available).
In my opinion, this project will have a clear division of likes and dislikes. Last summer, I went to Montreal and was passing between Islands in the center of the city. I was heading south and just after St. Helen's Island, I saw a massive apartment building looked so strange to my eyes. Some units were literally in the air and the color of the building was grey, the concrete color. No painting I guess. Later I found out that the strange looking building's name is Habitat 67. In the instruction of King Toronto brochure, the builder mentions Habitat 67. I introduce what he has to say here:
When our partner Michael Emory at Allied reached out and asked us to look at the nearly 600 feet of frontage he had assembled over 10 years on King Street W in Toronto, it immediately struck us that this site deserved something extraordinary. To design the project, Bjarke Ingels and his team at BIG came first to mind, as we had been looking for an opportunity to work together in Toronto for some time. Allied was equally enthusiastic about that starting point.
I always had a fascination with Habitat 67, well before I was actually able to see it in person. I think it began with my interest in the ideals behind the kibbutz and building a community. We thought of this project as a way to demonstrate how architecture can meet this challenge and, hopefully, on completion, that will be its test: can architecture bring people together? In many respects, I think the project has the potential to be more successful than Habitat 67, which after all, was an experiment built on an island in the middle of a river. Here, we have the opportunity to infill within an already vibrant, successful neighbourhood. King West is one of Canada's truly great neighbourhoods. Walkable, interspersed with parks and amenities, enjoying access to transit and a unique character made up of an eclectic mix of heritage and a fine-grain typology. At a different scale, using a variety of ways to extend nature, we have managed to create a village green at the heart of our project and in the surrounding landscape.
The other interesting aspect of this project is the inspiration from Maison de Verre, in Paris, which led us to explore the use of glass block both on the building façade and within the project, playing with reflectivity, translucency and transparency to create a luminescent project that changes with the light. Building upon the success of Vancouver House and our adoption of the principal of Gesamtkunstwerk, we have once again taken up the challenge of creating the total work of art. It was through Vancouver House, our first project with Bjarke Ingels, that I first discovered the word and philosophy behind Gesamtkunstwerk, and embraced it as a guiding philosophy for all of our projects, current and future. We realized that, above all, our work expresses the integration of art and architecture, which we hope will elevate our projects to become living sculptures and total works of art. Today, this concept continues to manifest itself in our projects in new and interesting ways, no better than here with what we are calling KING Toronto.
We are also really excited about the chance to work with Public Work, the young, talented landscape architect who has stepped up to meet the challenge of bringing nature into the urban environment. I think the landscape design on this project may be the best in the country. Finally, KING Toronto is also a project that is resonating strongly within the public discourse. We will be putting on our next exhibition onsite in Toronto, within our BIG-designed 2016 Serpentine Pavilion called Unzipped. This project and this conversation are among the ways we are helping contribute to a dialogue around urbanism and the opportunities of using architecture to create community in Toronto, a wonderful city that is considered amongst the most vibrant in the world today.
— Ian Gillespie Founder, Westbank
Actually King Toronto looks a lot nicer in both, structure and color of the building than Habitat 67.
I do not say this project will be good or not. I say it is different from most other projects and a very interesting project for sure. What do you think?
It is on south side of King Street and the frontage on King Street is about 200 meter long. So it is a huge project for sure. The builder, Westbank is one of the leading developer in BC. I believe they will do a remarkable job.
I have prices and floor plans but the builder do not allow Us to publish those. So please request them to me to teamyoon.ca@gmail.com or 416-333-3263. Signing is on this weekend. So let us know asap if interested. Cheers!