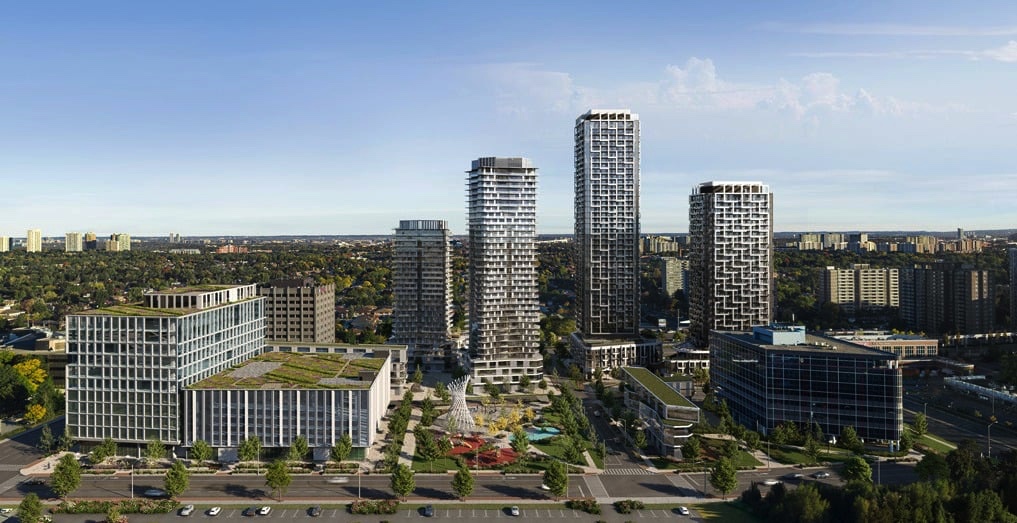 @Sheppard + Victoria Park Ave.
Feb. 28, 2023 Update:
Pricing and final floor plan have been released. Please refer to the following, and we are currently accepting/submitting worksheets, so if you are interested, please contact us as soon as possible.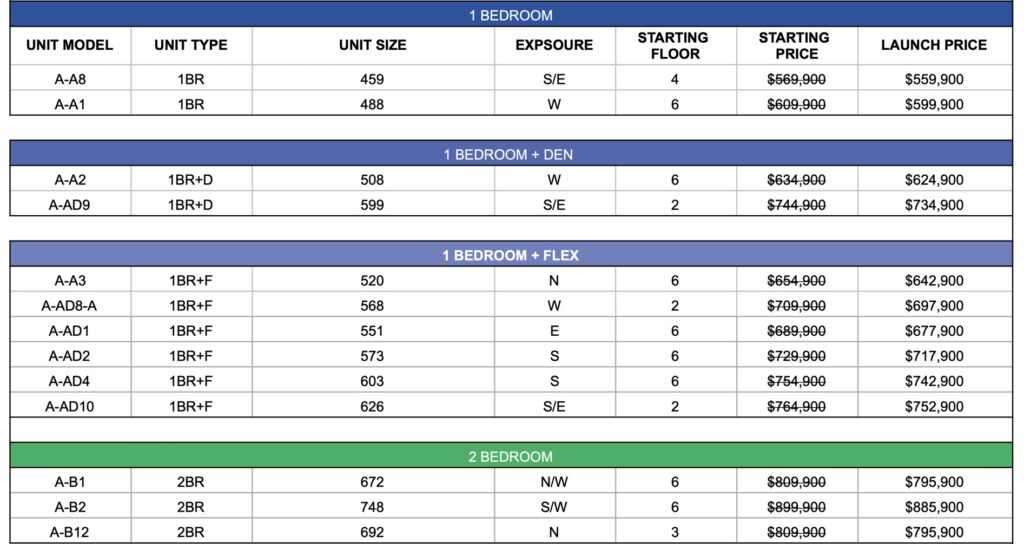 Limited Time Launch Incentives*
Price Reductions of up to $22,000 Per Unit!
(Unit Type: Launch Discount)
1 Bedroom : $10,000
1 Bedroom + Den. : $10,000
1 Bedroom + Flex : $12,000
2 Bedrooms : $14,000
2 Bedrooms + Flex : $16,000
3 Bedrooms : $20,000
3 Bedrooms + Flex : $22,000
Launch Only Platinum Deposit Structure – Only 5% Down Per Year!
– $10,000 with APS
(via bank draft payable to "Robins Appleby LLP, In Trust")
– Balance to 5% in 30 days
– 5% in 120 days 365 days
– 5% in 365 days 720 days
– Additional 5% due on Occupancy
Development Charges Closing Caps
1 Bedroom Types – $14,500
2 & 3 Bedroom Types – $17,500
Educational Levies – Included in Cap!
Free Assignments: + $500 legal fee applies
Free Lease on Occupancy Allowance
Future Proofed Parking Spaces
Parking available for units over 628 Sq. Ft.
All Parking Spaces Include EV Charging Station Rough In! Parking – $80,000 $65,000
Electric Vehicle Parking + Charger: Additional $15,000 $10,000
Lockers: Waitlist
Tentative Occupancy Date: January 2028
Feb. 25, 2023 Update:
Right next door is Tridel's Trio at Atria complex. This is a 3 year old condo complex. It's a very good comparison for LSQ. Comparing this condo, LSQ's $1,200/sf is a really good price.
Currently, Trio condos are sold at around $1,150/sf. Of course, some units have parking spots, so we can say they are sold at $1,100/sf.
The rental Price is also very good, with a 1 bed unit is rented for about $2,300 to $2,400 per month. In other words, we are getting about 95% of the rent price based on downtown Toronto.
LSQ will be ready about 5 years from now. Less than 10% higher than current market price is really really good price.

First, the tallest building, the 43-story building is sold first. It is located at the second building from East which is Victoria Park Road.
Since the floor plate of the building is almost square, all units came out very nicely. Please choose the unit you like.

When you have decided on a unit, please call us.

February 17, 2023 Update:
First, renderings of the two buildings to be sold is released. The floor plate and approximate price are also listed below, so please refer to it in advance.
Prepare before everyone else. We'll get you the unit you want. call me.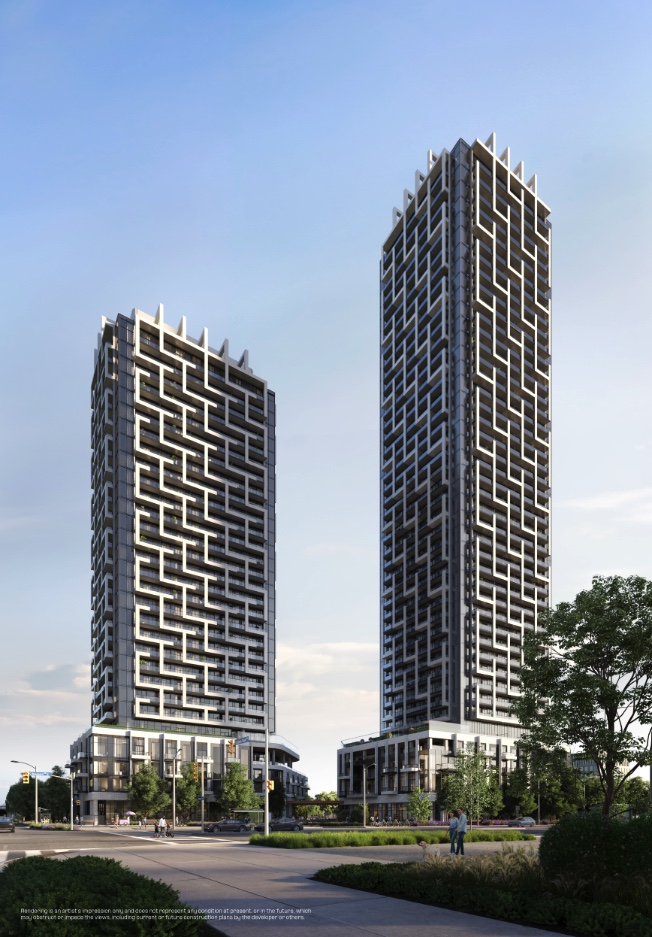 The first building to be sold is the building on the right, 43 stories high. The building on the left is the one that will be located on the complete corner and will be sold next. This rendering is looking northwest.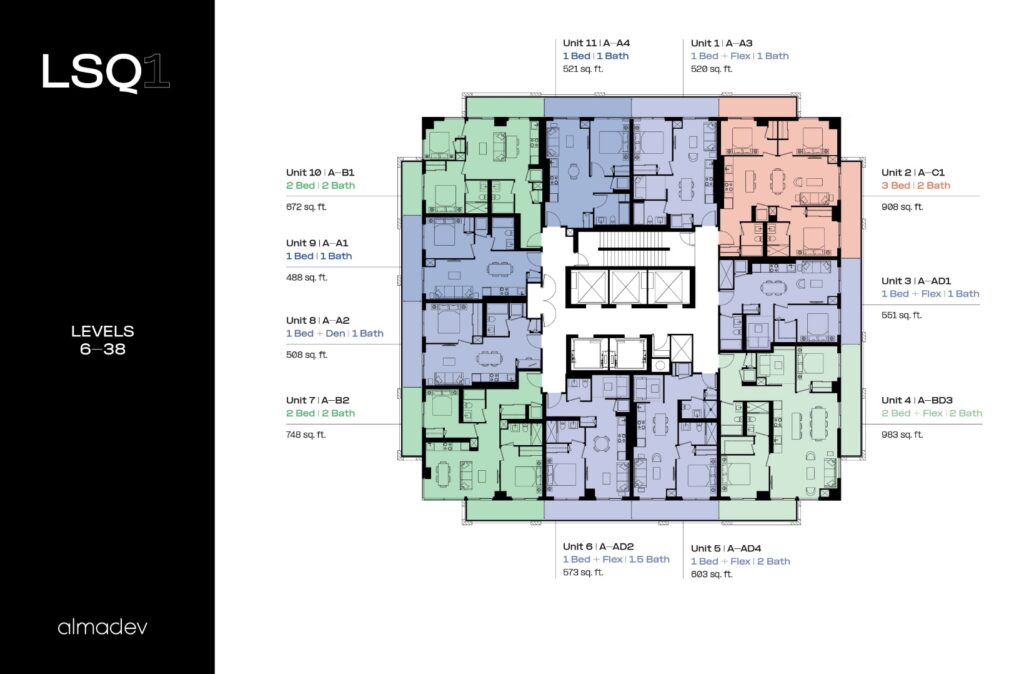 Unit Type Starting Size Starting From Price Building Location
1BR 459 Sq. Ft. Mid 500's Podium
1BR+Den 508 Sq. Ft. Low 600's Tower
1BR+Flex 520 Sq. Ft. Mid 600's Tower
2BR 672 Sq. Ft. High 700's Tower
3BR 908 Sq. Ft. Low 1 million Tower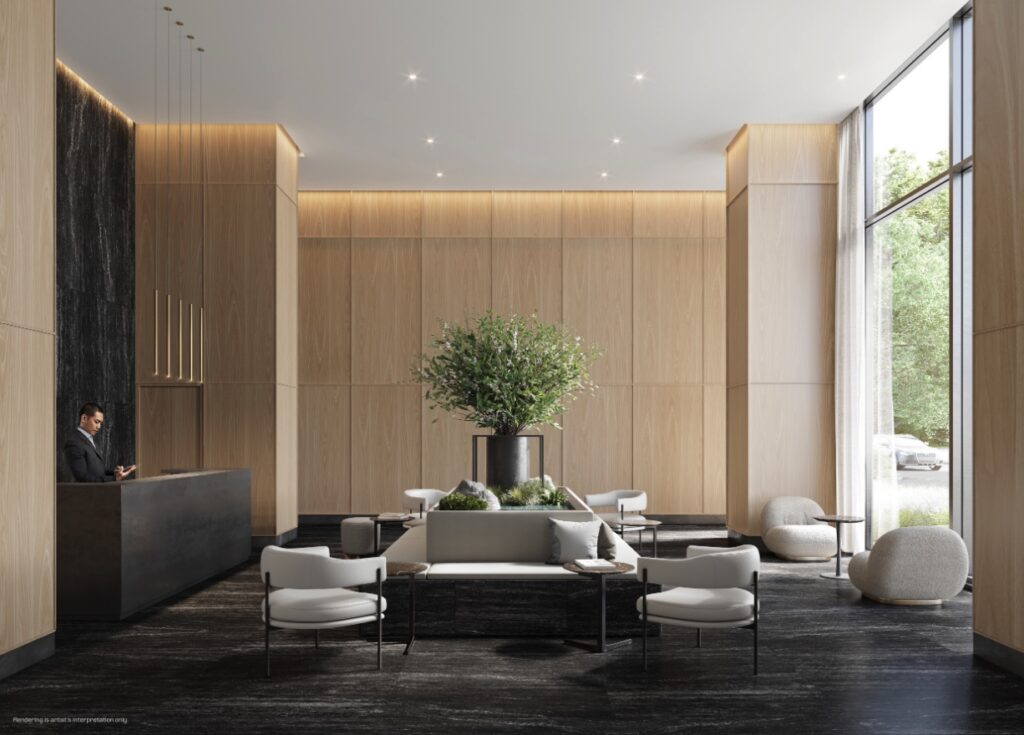 January 25, 2023:
At the southwest corner of the intersection of Sheppard Ave and Victoria Park Ave, a complex condo complex with 6 buildings, or Master Planned Community, will be built, and sales are expected to begin at the end of February. In this sale, the first two buildings will be sold first.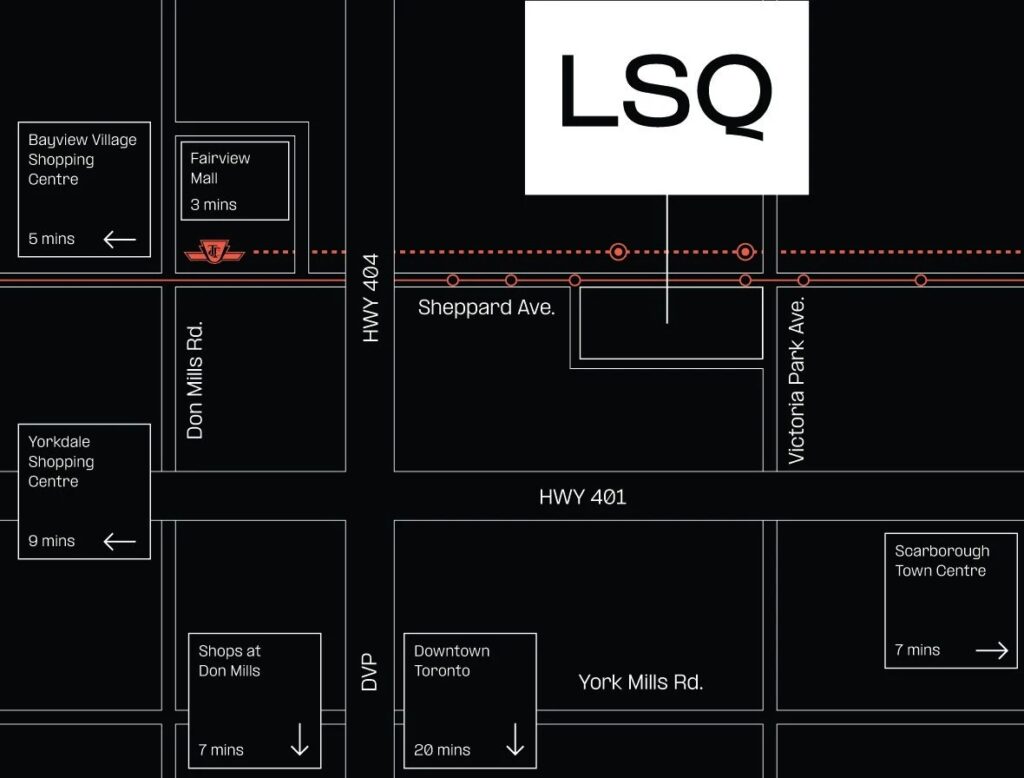 highlights
Address: 2550 Victoria Park Ave, Toronto, Ontario, M2J 5A9
Usage: Residential Condo, Office, Retail), Public Space / Park
Number of buildings: 6.
Floors: 40, 30, 18, 35, 18, 7, 4
Number of Units: 459, 341, 266, 386, 99, 40
Developer: Almadev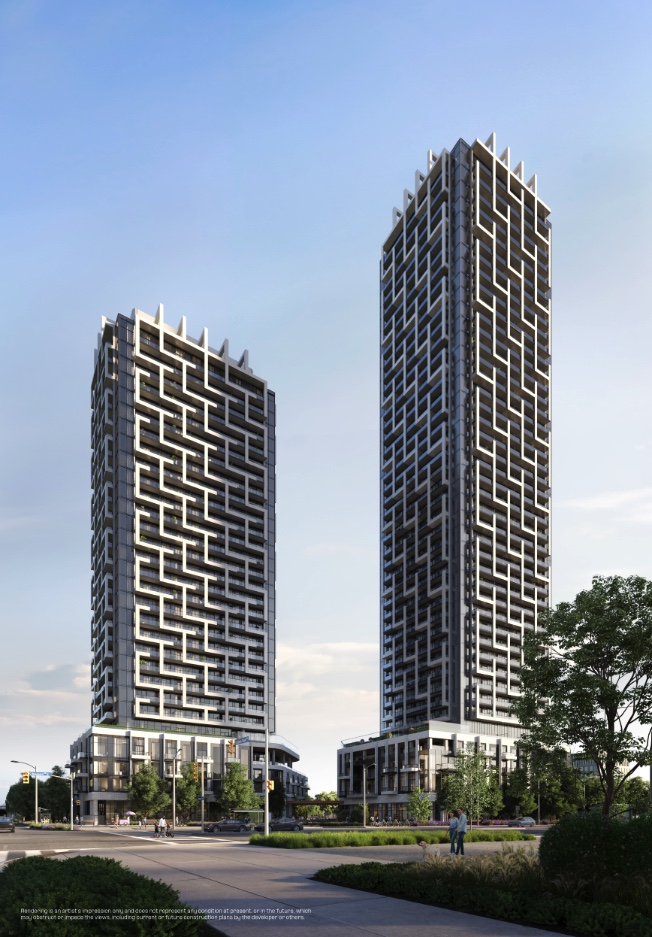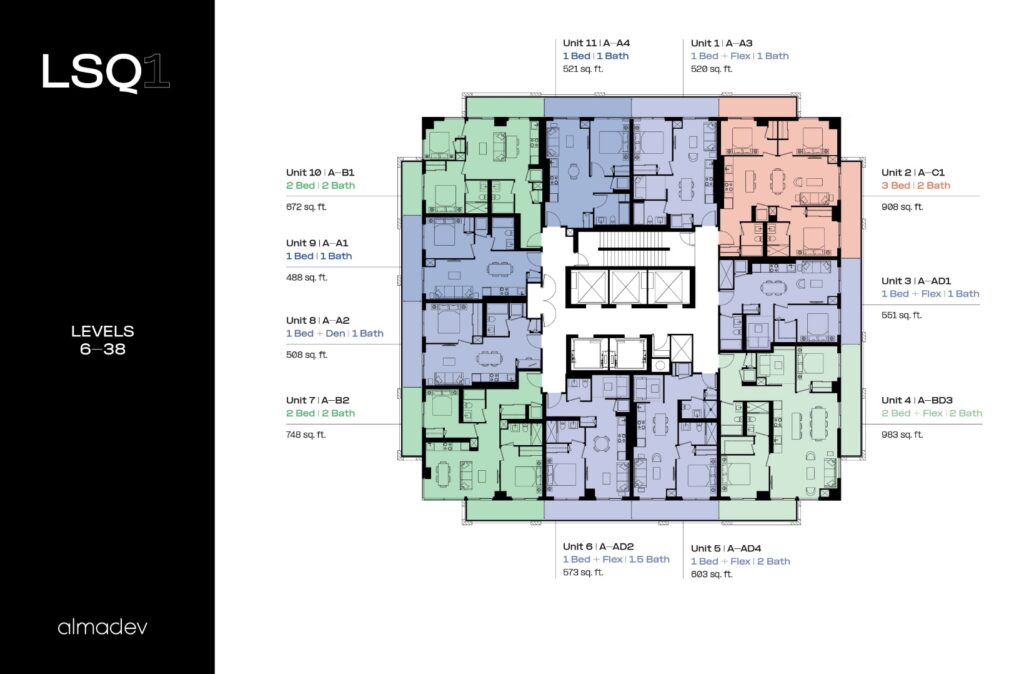 | | | | |
| --- | --- | --- | --- |
| Unit Type | Starting Size | Starting From Price | Building Location |
| 1BR | 459 Sq. Ft. | Mid 500's | Podium |
| 1BR+Den | 508 Sq. Ft. | Low 600's | Tower |
| 1BR+Flex | 520 Sq. Ft. | Mid 600's | Tower |
| 2BR | 672 Sq. Ft. | High 700's | Tower |
| 3BR | 908 Sq. Ft. | Low 1 million | Tower |