Uovo Condos at Yonge and Hillsdale
April 23, 2018:
Introducing a new condo on Yonge between Eglinton and Davisville.
Please call me for good units.
Uovo is for those who appreciate the finer things. Like a memorable dinner in a perfect little place, no one else has discovered yet. Or the appealing dissonance of jazz. Like a beautiful painting, abstract and full of angles and colours.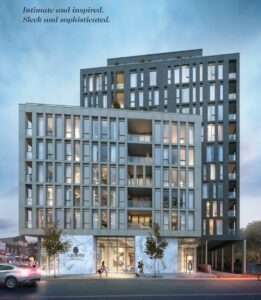 Beautifully orchestrated and thoughtfully designed, uovo is a uniquely intimate boutique residence at Yonge and Hillsdale.
It's steps from Davisville, and just south of Yonge and Eglinton, where the city really comes alive.
Brought to you by the talent of Raw Design, with interiors by renowned EsQape Design, this elegant residence has 62 single-storey suites, each with its own private outdoor space – plus five soaring two-level penthouses with expansive terraces overlooking the city below.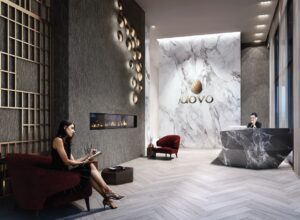 The building's sleek, understated décor soothes the soul, with unexpected touches of elegance like the asymmetrical concierge desk that evokes a modernist sculpture, and the building's unique laser-cute lattice exterior.
Like you, uovo is modern yet timeless.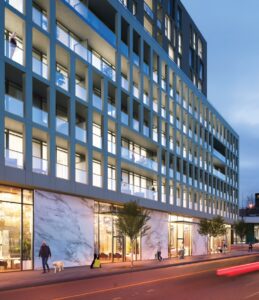 Quietly sophisticated.
And right at home in one of the city's most exceptional neighbourhoods.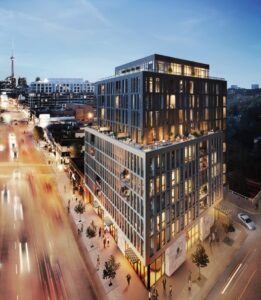 FAQS
Suites
• 11 Storeys – 67 Suites all with balconies/terraces – 62 single storey – 5 two storey PHs, with
expansive terraces
• Ceilings: Approximately 9ft from floors 2-6 & approximately 10ft from floors 7-11- Smooth
ceilings throughout
• Floor to ceiling windows
• Flooring: Wide plank laminate wood flooring – ceramic tiles in laundry
• Kitchens: Quartz countertop –30" gas cooktop – 30" panelled fridge – 24" panelled dishwasher –
approximately 13 feet kitchens
• All outdoor spaces have electrical outlet and gas bib for BBQ- Hose bib on select terraces
• 2 pets per suite
• Utilities: Hydro/gas/water/thermal metered separately
• Heating/Cooling: 4 pipe fan-coil
• Maintenance fees are 62.8 ₵ per sq ft
• Levy Caps: 1B+S & 1B+D: $10,500 2B+: $13,500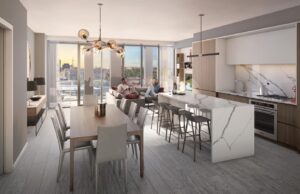 Building
• Address: 2114 Yonge Street at the S/W corner of Yonge and Hillsdale
• Suites start at 626 sq ft, 1B+D – 1,887 sqft, 3+D + Family room
• 53 Parking @ $80,000 – 6 visitors – 1 retail space owner – 4 levels
• 67 Lockers @ $6,500
• Resident bicycle parking 88 spots
• 13 visitor bicycle spots – 2 for retail
• Pedestrian/Vehicular Entrance: Hillside West, Pedestrians off Yonge
• Executive concierge services 8hrs a day/ 7 days a week
• Key fob access
• Two elevators• First floor: Approx. 4,000 square feet of retail space
• Architect – RAW
• Property Manager – Cross Bridge
• Interior Design – Esqape Design
• Construction Manager- Accel Construction
Views
• North: unobstructed from 2nd floor and above – Residential
• West: unobstructed from 2nd floor and above – Residential
• East: unobstructed from 3rd floor and above- existing low rise mixed use
• South: unobstructed from 3rd floor and above- existing low-rise mix use
Amenities
• Lounge- Designer appointed with fully equipped kitchen and dining area – Level 2
• Conveniently located pet washing station – Level 1
• Wellness Room with cardio and yoga areas – Level 2
Neighbourhood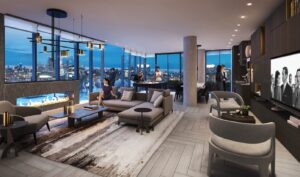 • Walk Score: 98 – Transit Score: 95 – Bike Score: 81
• Transit: 3 min walk to Eglinton Station (future LRT 2020) 7 min to Davisville
• Public Schools
o Davisville JR – English and early French emersion
o Hodgson MS – English and extended French
o North Toronto CI – 90% of grads gain admission to top Unis
o Northern SS – Exceptional tech school
• Charming shops and restaurants, beautiful parks, Kay Gardiner Trail, and lovely tree lined
neighbourhood
• Grocery: Metro and Sobey's within walking distance
Please contact me for good units.