8 Wellesley Condos – It is time to buy!
@ 8 Wellesley St (Yonge and Wellesley, Downtown Toronto)
Feb. 18, 2021 Update:
Now Selling

.

There are many smart investors out here! Call me now for yours!

Feb. 10, 2021 Update:

The COVID19 crisis, which began in the beginning of last year, drastically reduced the demand for rent in downtown, resulting in a sharp decline in rental and sale prices for condos. So now, will the downtown condos be kept at the low value forever? Of course not. When the pandemics in human history were healed, mankind has returned to life before it, as if it was. Vaccines and treatments are now available, and it is only a matter of time before price recovery as well as price increase. If so, when is the price bottom? Shall it go further down from here? Probably not. If now is the bottom, of course it is time to buy. If you are capable, you should buy it now before it's too late.

What about the price of a new pre-construction condo? The price cannot be so high for sure. Of course, the builder sells it at a good price with some attractive incentives for sure. If it had been sold before the COVID19 outbreak, 8 Wellesley would probably have a starting price of $1600/sqft. However, I think this time it will probably start at $1300-1400. Fingers crossed!

Nevertheless, due to the current situation, you may think it is awkward to buy downtown condos. However, imagine 4-5 years later when this condo is completed. Will the situation still be the same like now or even worse? Absolutely not. With over 100,000 immigrants coming into the Toronto area every year, it's well worth the investment. Please make a good decision. Thank you.
If you are interested, I strongly recommend you to
register

your desired unit WITH US, one of the

PLATINUM

brokers,

this week

.

Oct. 25, 2020 Update:

The builder of this project Centre Court had decided to postpone the release of the project to next year. However it is always good to prepare in advance for sure. Please call Mike to discuss it. Thanks.

October 10th, 2020: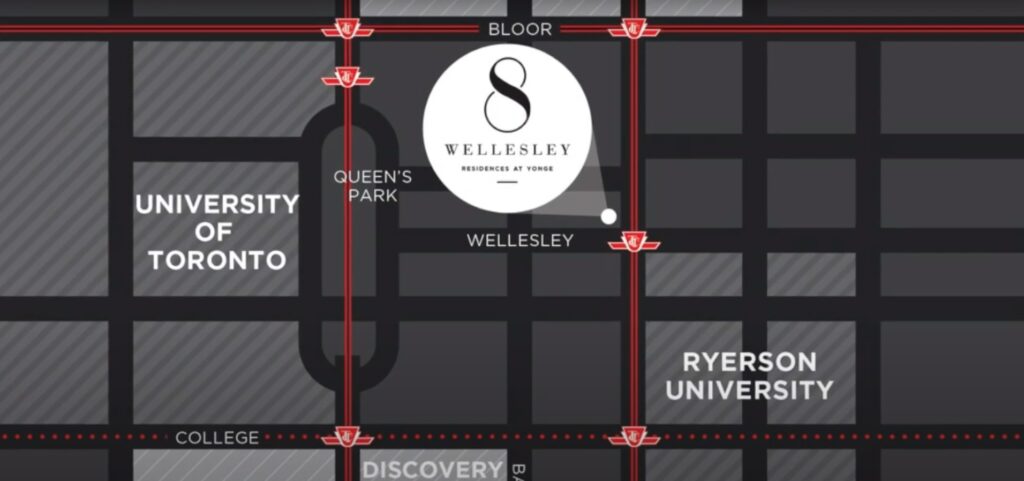 AAA location in DownTown Toronto
Yes. You read it right. Wellesley Street West! It's the northwest corner land where Yonge Street meets Wellesley. CentreCourt, a popular construction company, presents a 55-story high-rise building here. As you all know, downtown Toronto has been developed maily to the west of Yonge Street, so there lack of lands left to be developed in the west compared to the east. So the value of this project is priceless. However, due to the current coronavirus outbreak, the condo market is slowing down for now and the builders will lower the selling prices. So? the buyers will have a really good chance which will not come again. When the corona crisis calms down, the price of condos will rise high again. Do not forget that this condo will be completed in at least 4 years from now. Don't forget that the basic of investment is to buy at low and sell at high.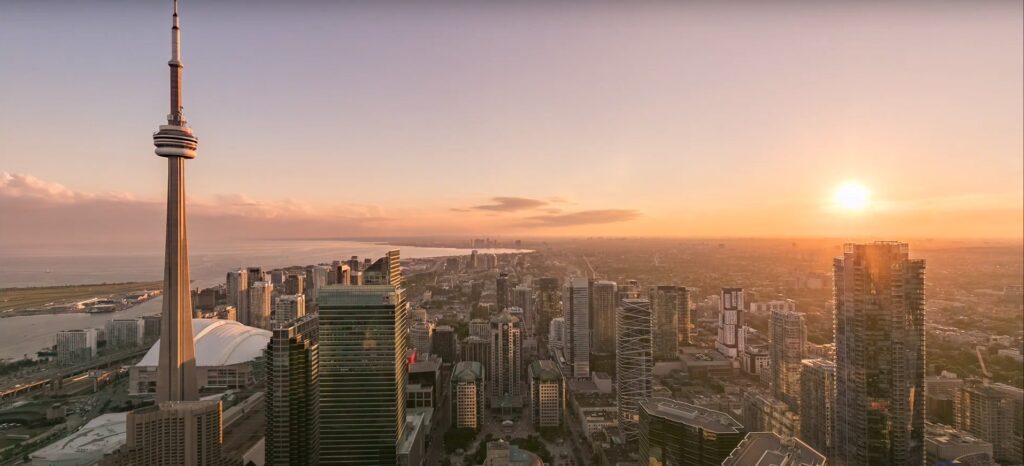 Everything in downtown Toronto is nearby. The University of Toronto, Ryerson University, and other universities are close by, and hundreds of restaurants, retail stores and entertainment options are just minutes away. Again, the price will be very good. It is expected a unit to start at around $500,000.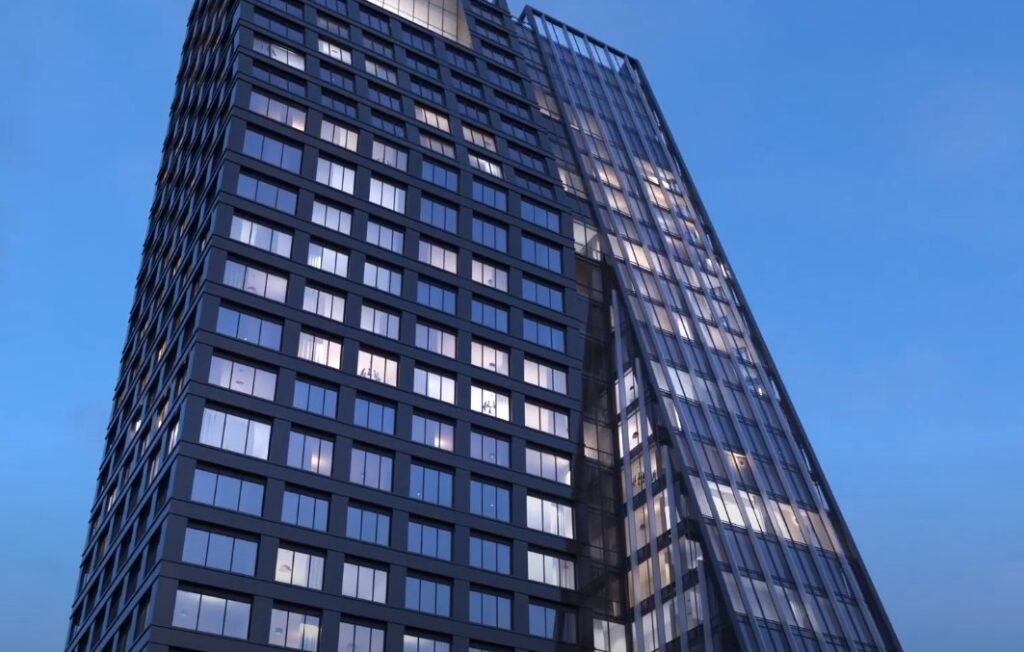 Project summary
• Construction company: CentreCourt
• Address: 8 Wellesley St. West, Toronto M4Y 3B2
• Main intersection: Yonge St & Wellesley St
• Price: Expected to start from $500,000.
• 55 storeys, 602 units (from studio to 3 beds)
• Move-in: expected in 2024
This new condo will blend in well with the grandeur of a modern tower while preserving the heritage façade.
Specially designed with multiple outdoor amenity terraces, this tower offers a noble living experience overlooking the most vibrant and diverse neighborhoods in downtown.
In total, over 20,000 square feet of indoor and outdoor amenities are available. Indoor amenities spaces will be created on the 4th and 40th floors, and outdoor amenities terraces will be created on the 4th, 40th, 54th, 56th, 57th and 64th floors. The tower's unique mass allows for multiple terraces, most of which provide south and west exposures.
The parking space on the 3 basement levels include 47 parking lots.
The project's podium will include street-level retail stores to preserve the vibrant pedestrian culture along Yonge, and the lobby will be Accessible from St. Nicholas Street.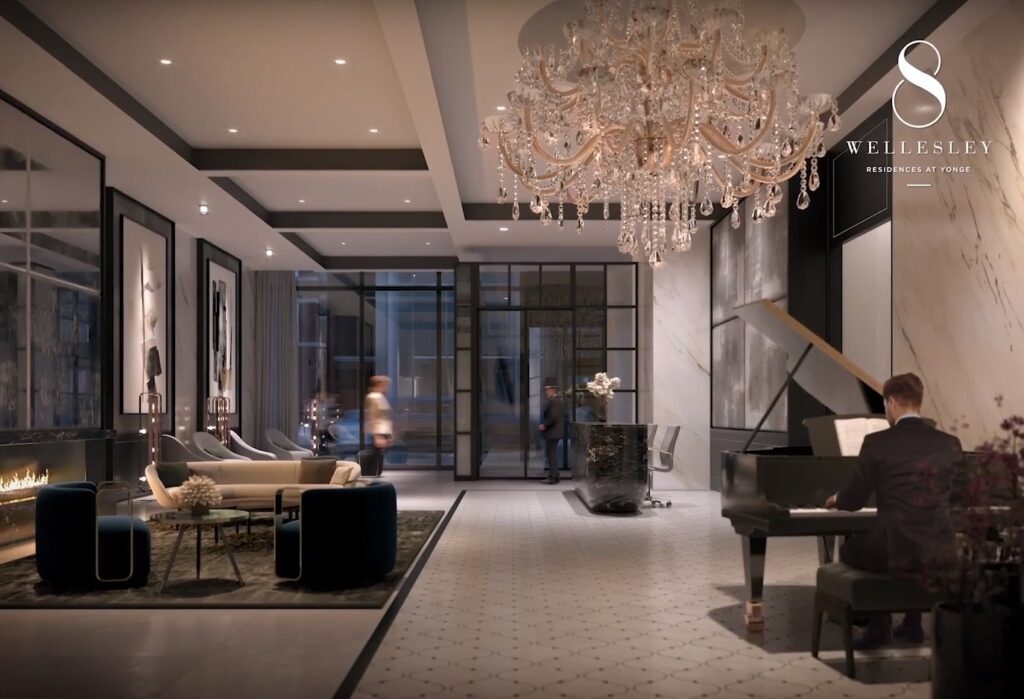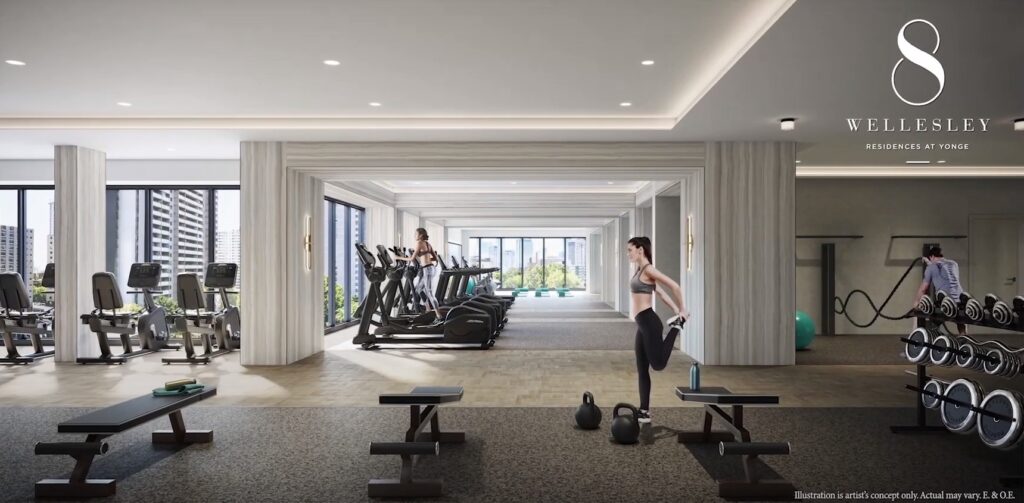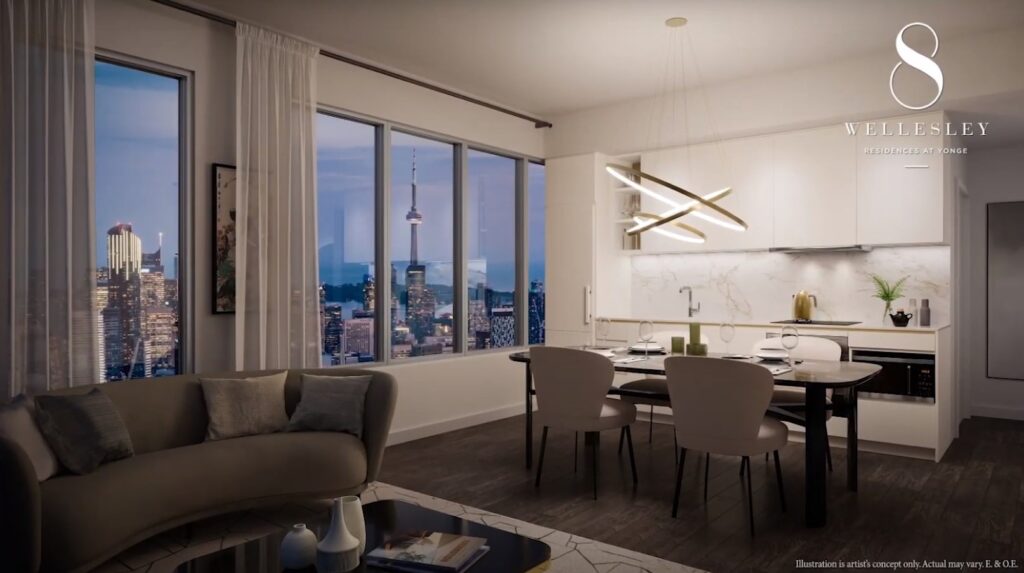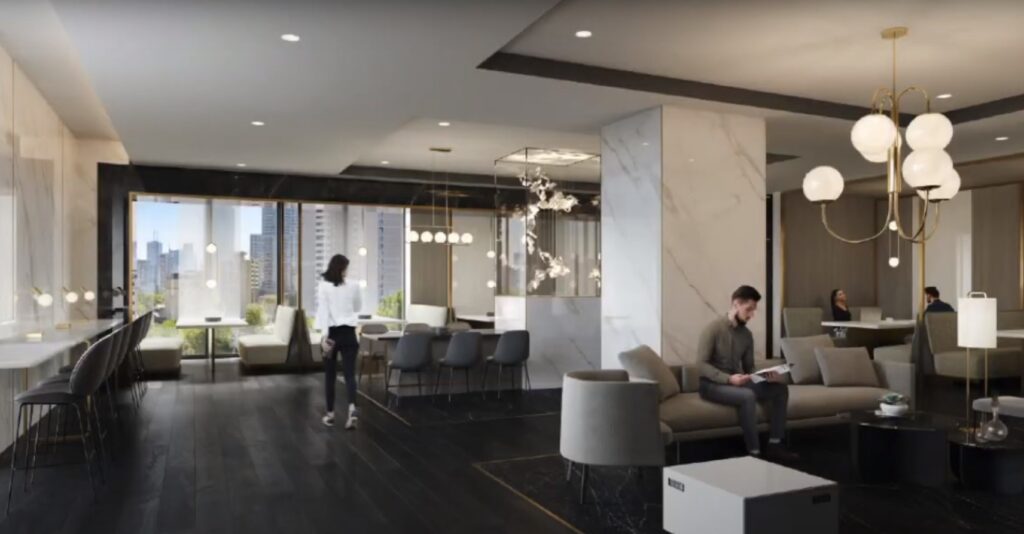 Surrounding environment
This area always has a lively and young appearance. Along with that, it offers a wealth of city amenities. Restaurants, shops and entertainment options line up, and many more modern condominiums are being built.
This is the city's highest rent guaranteed location. This reflects the preferences of the area by tenants and homeowners with various professional occupations. It is not surprising that the area attracts a significant number of professionals as it is a short commute to the high-density employment districts such as the Bay Street Corridor and Financial District, as well as the Discovery District, which is home to many medical and scientific connections.
Wellesley Avenue has a subway station. Also, Yonge/Bloor Subway Station, the intersection of subway lines 1 and 2, is only a few minutes walk away, so it is easy to access anywhere in the east, west, north and south.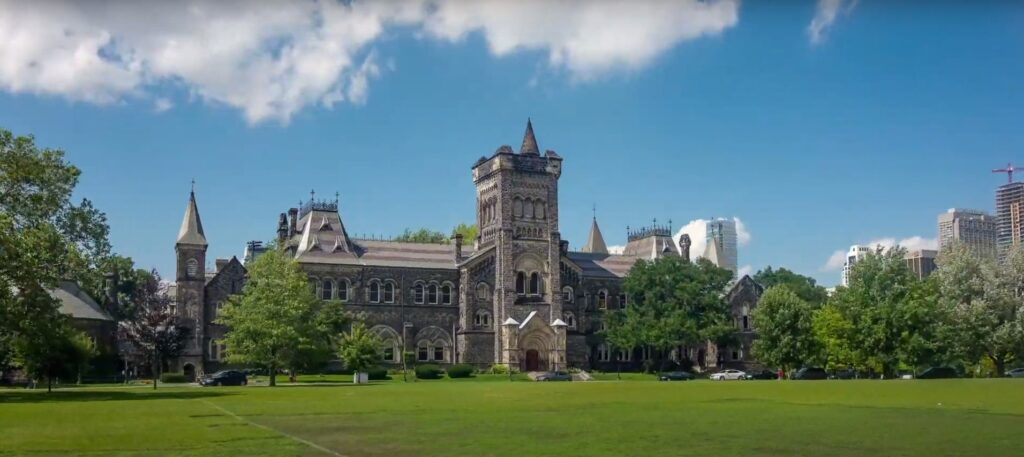 Construction company
CentreCourt Developments has started building homes since 2010. If you look at it simply, you may be surprised by its very short history, but the talented people who have already had enough experience in leading construction companies established the company together and they have already successfully built numerous high-rise buildings in the Greater Toronto Area. Centrecourt has already done 15 projects on 7,000 units and specializes in residential high-rise buildings. They provide the highest level of excellence in all development projects and consistently exceed customer expectations.
Convenience is one word describing this exciting new condo coming soon in downtown Toronto. Just a short walk from 8 Wellesley Condos to universities, as well as the Hospital District and Yorkville shops, there is nothing short of a fantastic variety of dining, shopping and entertainment options.
Reason to buy
The 8 Wellesley Condos has an almost perfect walking score of 99/100. This means you can complete most of your routine without using a car.
A 13 minute walk, 3 minute drive or 3 subway stop to Eaton Centre, the city's premier urban shopping location with over 250 best-in-class retail outlets, restaurants and services.
100/100 perfect traffic score!
It is just a few steps from Wellesley Station, where you can transfer to the Bloor-Danforth Line in just 1 stop north or Union Station in 5 stops south.
3 minutes from hospital district: Women's College Hospital, Toronto General Hospital, The Hospital for Sick Children & Mt Sinai Hospital
Entertainment options located in the surrounding area – very close to some of Toronto's top attractions, such as the Phoenix Concert Theatre, Royal Ontario Museum, Kensington Market, Ontario Art Gallery, Young-Dundas Square and Queens Park.
5 minutes to Toronto's financial district with over 200,000 jobs.
Over 100,000 students live within a 15-minute walk of Ryerson University and University of Toronto!
The Don Valley Parkway (DVP), Gardiner Highway, Highway 401, and Highway 404 are well connected. Easily navigate through GTA.
Advantages of working with a construction company approved VVIP platinum broker/agent
• VVIP price benefits
• First Access to popular units
• Best incentive/promotional benefits of VVIP
• Special discount
• Caps on development charges

If you apply after the project is announced, it will be late. Please prepare in advance and do not miss the opportunity. Call Mike now. Thank you.