분양-Now Selling | 8월 13, 2020
@ Mississauga (Hurontario + Eglinton)
August 13, 2020 Update:
Prices and Floor Plans are available. Please click links below.
August 8th, 2020: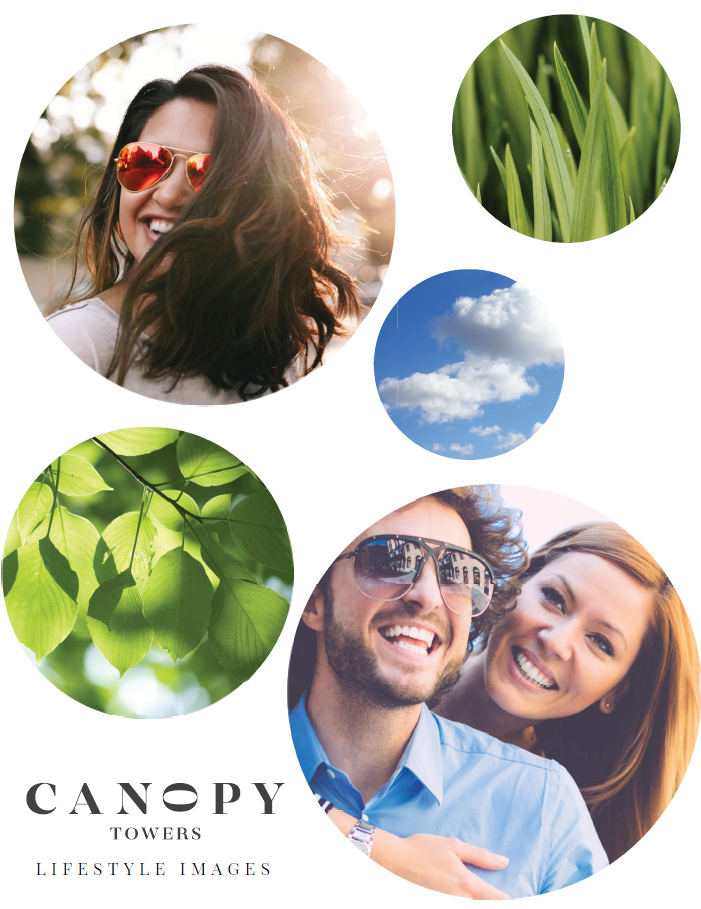 Welcome to the world of Canopy Towers, a captivating and an inspiring
example of complete living embraced by stunning lifestyle amenities.
Poised in the urban hub of Mississauga along Hurontario Street and Eglinton Avenue, this stylish building showcases a sleek tower rising from a 6-storey podium that extends around the building providing a stunning commercial and residential face at ground level. The contemporary façade of the tower will have a prominent block design, making it a distinct addition to the Mississauga skyline.
Tucked in behind the podium is a curved "lifestyle canopy" on the second
floor. Below, it acts as a shielded central porte cochère for residents entering the building. Above it – a lushly landscaped canopy serves as a sanctuary with over 10,000 sq. ft. of amazing outdoor amenity space connected to incredible indoor amenities. Add to this an ideal location adjacent to the Mississauga Transit and Hurontario LRT, life at Canopy Towers is above all.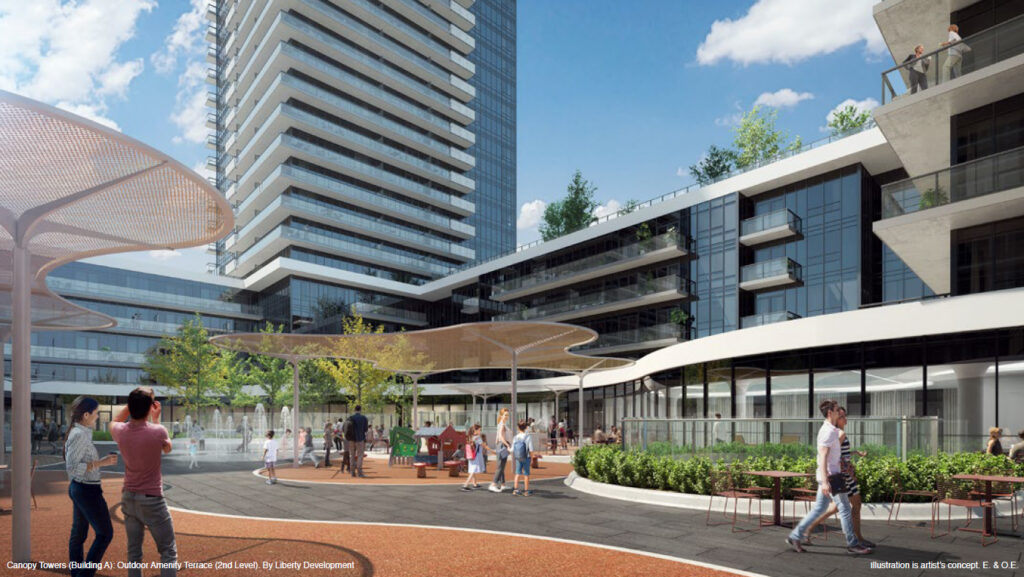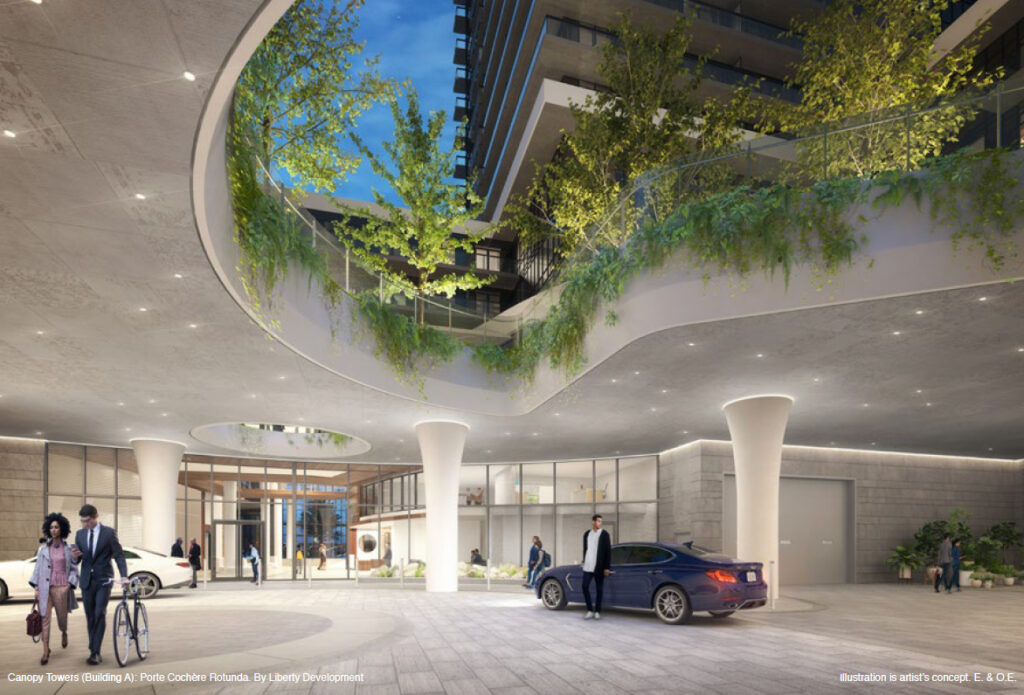 Arrive in impressive style through the elegant porte cochère rotunda under the shaded canopy with peekaboo views of the green world above. Inside make your grand entrance in a contemporary lobby with stylish lounge seating, self-service parcel room and a dedicated 24/7 concierge. And don't forget to wash off your furry friend in the pet wash before heading to your suite!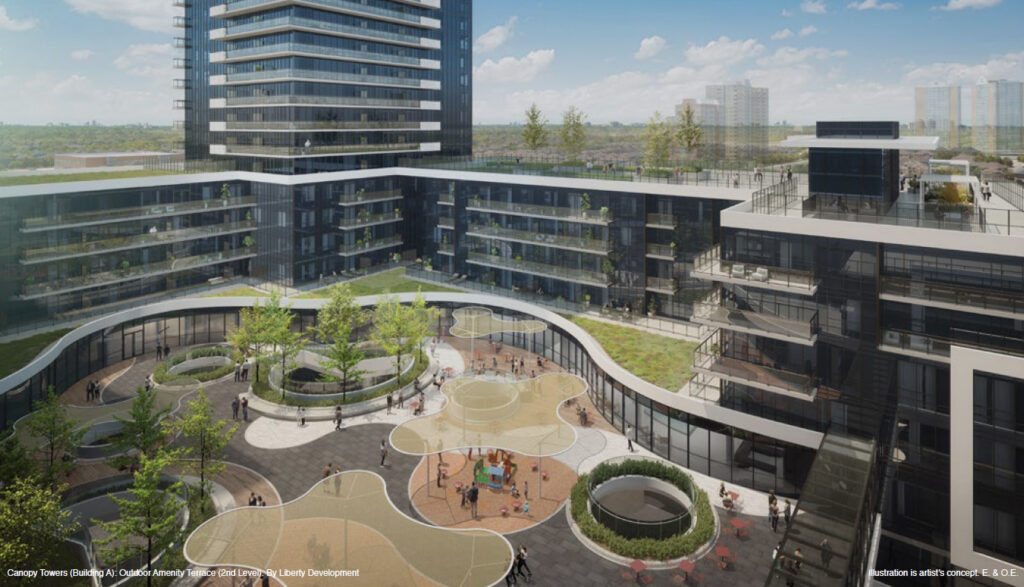 Walk out on the outdoor amenity terrace into another realm seemingly floating on air. A beautifully landscaped canopy terrace escape filled with space to relax and enjoy the fresh air, to lounge and take in the views away from the hustle and bustle.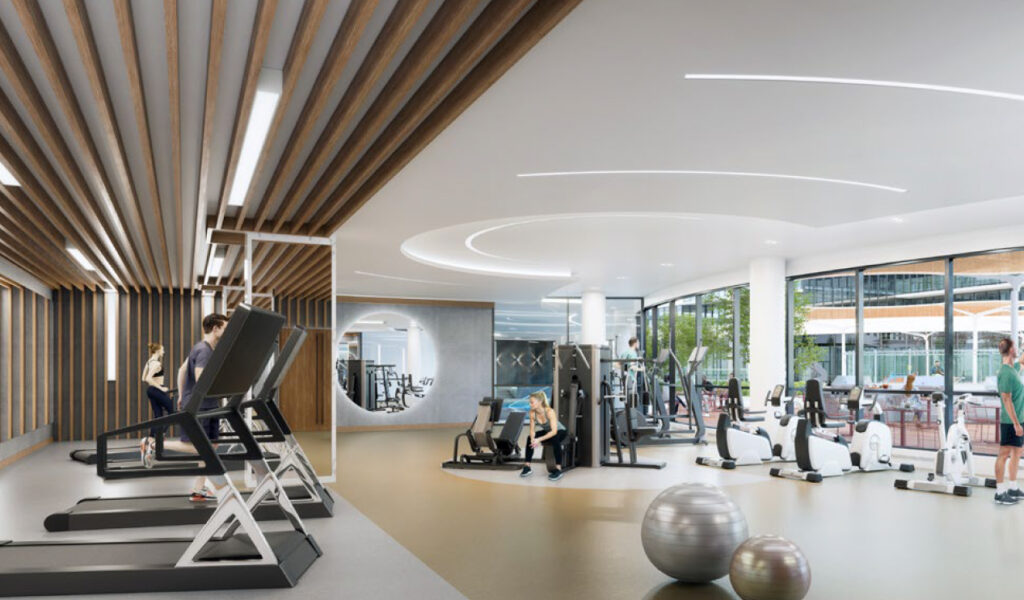 Set a goal and achieve it. Living at Canopy Towers invites this level of success in an ultramodern Exercise Room. Amp up the adrenaline with the latest in state-of-the-art equipment in an inspiring space that will balance elegance and function. Then find your Zen and practice your breath in a beautifully peaceful Yoga Studio.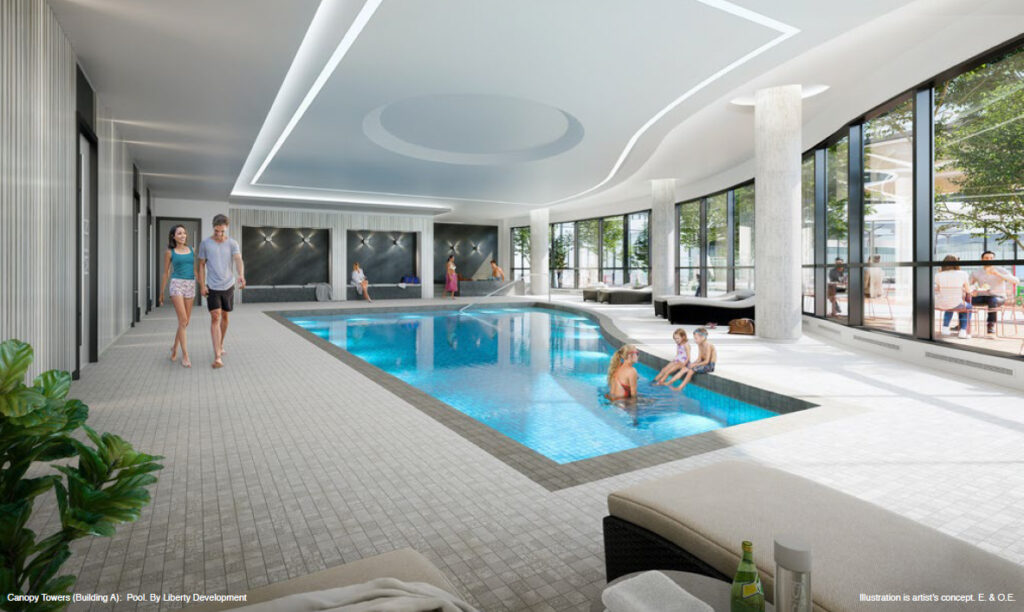 Take luxury living up a notch and indulge in the splendor of a resort-inspired indoor pool. Make a social splash, get your laps in, go for a whirl in the whirlpool, relax in the sauna or simply lounge poolside and daydream away.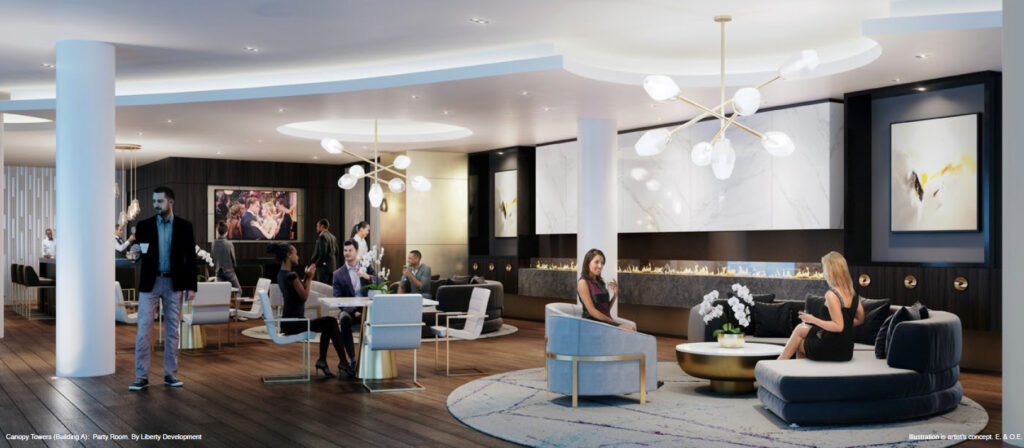 Set a bar, and then raise it in an absolutely stunning Party Room that is sure to inspire a good time. Sleek, contemporary style, blends in effortless comfort with lounge seating beside an elongated fireplace. Host an event in the private dining room, to serve up the essentials for a night to remember.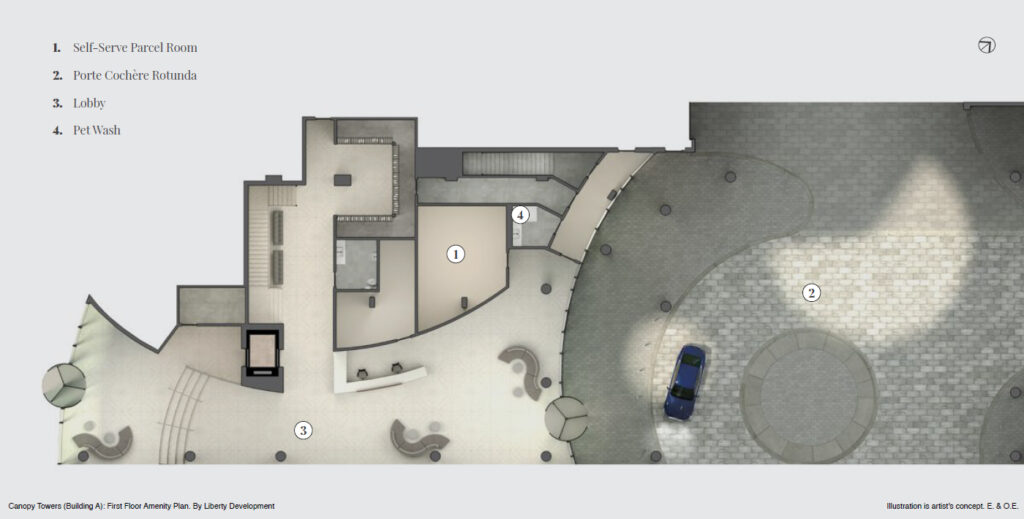 Surround yourself in a stylish amenity space designed to dazzle and impress. The first floor welcomes you into an elegant lobby with a 24-hour concierge here to cater to your needs, and a Pet Wash for your favourite four-footed friend.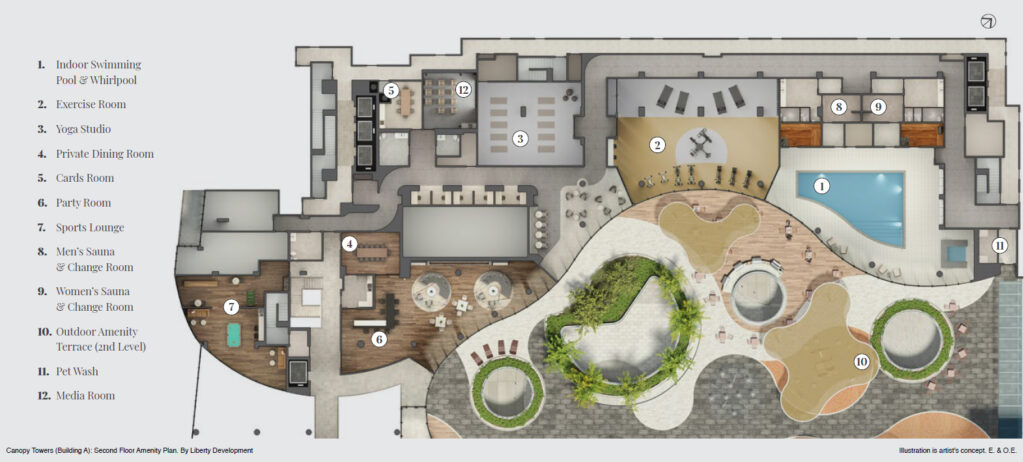 Up to the second level, the lifestyle amenities indulge your every desire both inside and out. Step out onto the amazing outdoor canopy terrace and enjoy abundant green space and fresh air. Inside, enjoy some wellness in an indoor pool and whirlpool, as well as the exercise room and yoga studio. There is the party room and private dining room, along with a games room equipped with a billiards table and shuffleboard, a card room and media room.
Indoor Swimming
Pool & Whirlpool
Exercise Room
Yoga Studio
Private Dining Room
Cards Room
Party Room
Sports Lounge
Men's Sauna
& Change Room
Women's Sauna
& Change Room
Outdoor Amenity
Terrace (2nd Level)
Pet Wash
Media Room
A diverse city with a strong sense of identity, new Canadians are welcomed with open arms and cultures are uniquely celebrated throughout a tightly-knit community. Mississauga is also a city of opportunity, innovation and booming business. A forwardthinking, sustainably run city, poised to thrive in an urban renaissance. Rich in heritage, vibrant in culture with an abundance of parks and nature, Mississauga is an ideal place to set down roots, live, work, play and raise a family.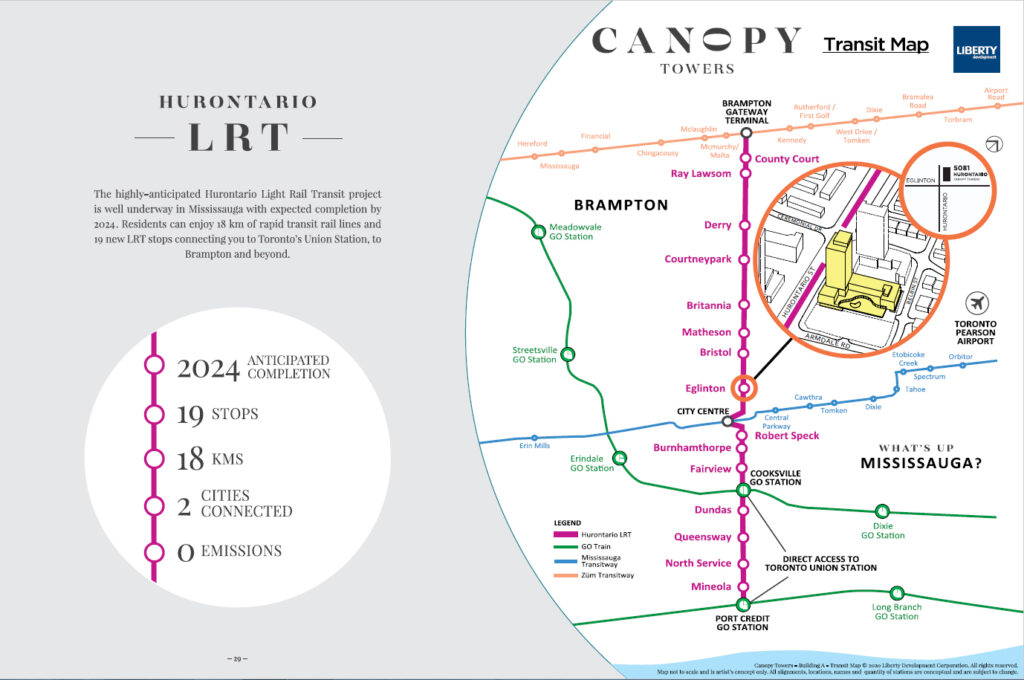 Connection is key and at the core of living at Canopy Towers. Ideally located adjacent to the Mississauga transit intersection, enjoy easy access to the Hurontario LRT, GO Transit and the extensive MiWay transit system. You're minutes from the Cooksville GO train and bus station connecting you to downtown Toronto's Union Station in a speedy 30 minutes, making your commute comfortable when using public transport. Plus, you've got highways to choose from being so close to Hwy 403, 407, 410 and 401 offering fast access in any direction.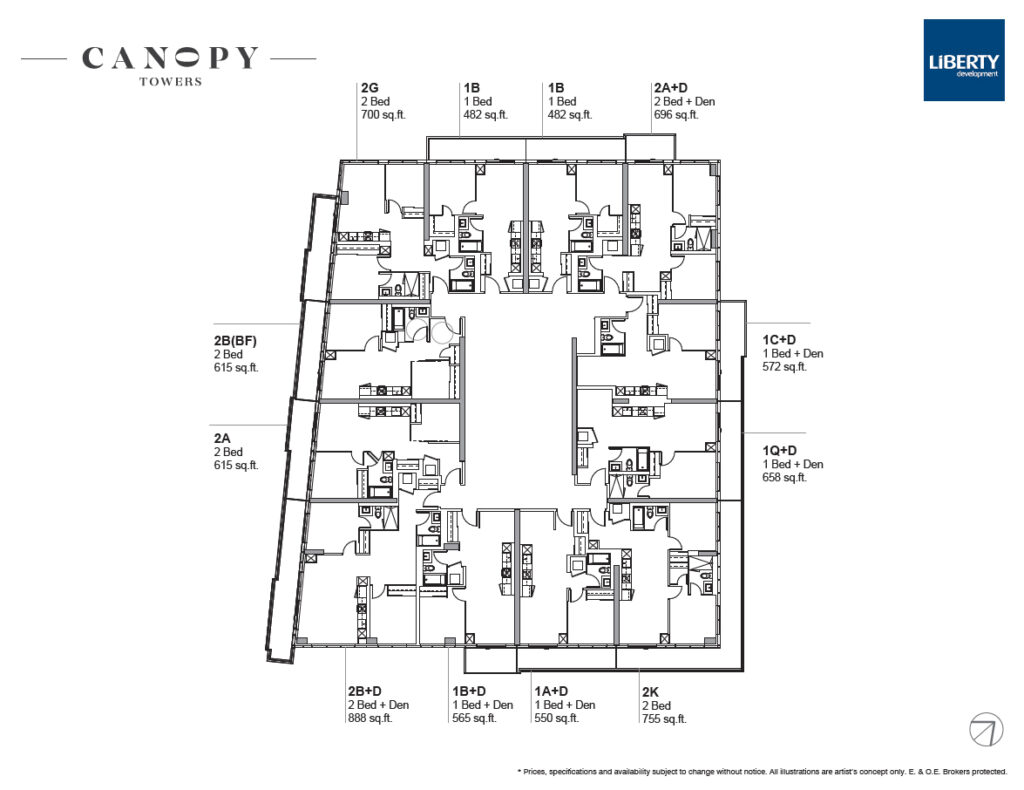 Please let us know if you are interested. Thank you!